Heated wiring gurus!
Finishing up setting up the FJR for cold weather riding.
Santa came early this year and bought me a Mobile Warming dual power jacket and matching Barra winter gloves. Can run on 12v battery or wired to the bike directly to your battery:
I've run the 12v power lead adapter with a fuse to the right side towards the saddlebag. Properly soldered and heat shrink wrapped all connections running to my relayed 6-circuit fuse block. Female end of plug should be a 5.5 x 2.5 plug.
But, I'm still thinking it's not the most elegant way to having the power cord just dangling.
Have any of you installed a DC coax jack panel mount so you can merely plug in and where?
This one from Warm & Safe Heated Gear: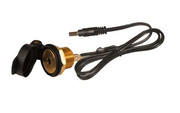 Or this Gerbing 12V Panel Mounted Port: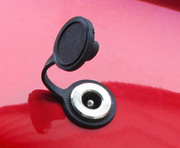 Thinking of installing around the yellow dot on the fairing panel rear of the battery on the throttle side: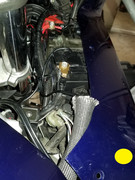 Pictures of your installs?