What all does Garauld make for the FJR
---
I bought the Stiffy kit for my '14 FJR and keep the top box lightly loaded, my heavier stuff goes in the side cases. But every now and then I see Garauld posting that he makes the stiffy kit, highway pegs, and BRs (no idea what that is).

Garauld is there any way you can post a list of the things you manufacture for the FJR. The quality of the stiffy kit is better than the FJR! Just wondering.
---
- Jim,
AMA Life and MSTA member
2014 GenIII ES
2002 VTX1800c
Senior Member
Farkle Trainee
Join Date: Mar 2015
Location: Phoenix, AZ
Posts: 438
BR = Backrest. I know he's also made tail racks and under-mirror light mounting brackets. It would be awesome if he had some sort of FJR product catalog... Wonder if we can talk him into putting something together?
---
2013 FJR1300A -
To view links or images in signatures your post count must be 10 or greater. You currently have 0 posts.

He's also an accomplished painter, can paint all OEM colours...... and more.
---
Ray
Keep yer stick on the ice....
2014 FJR1300A - Root Beer
2009 CBF1000A - Sienna Red
Does garauld make highway pegs? Anyone have pictures of them installed?
Senior Member
Farkle Trainee
Join Date: Nov 2005
Location: Binghamton, NY, USA
Posts: 222
I have spec sheets of the stuff I make - just PM me and include your model year and both your email address and location. Here's some pics of the universal HW pegs, Rivco pegs are available also: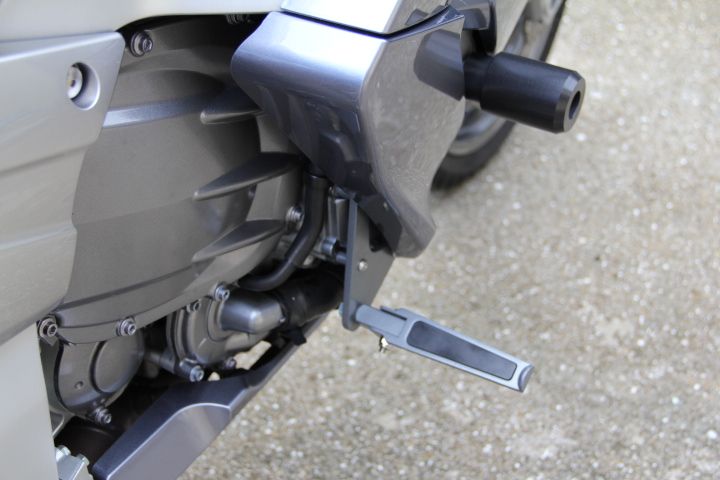 ---
"If ya can't be handsome, ya might as well be handy!"

2004 FJR1300
---
Last edited by Garauld; 05-24-2016 at

09:23 AM

.
Junior Member
Training wheels fitted!
Join Date: Jan 2015
Posts: 4
Hello! I have been wanting a couple items of yours for some time. I would be most appreciative if you could send the list of your offerings. I've a 2003 FJR with only 8k mi. in perfect cond. and looking to outfit her for some long distance touring.
With many thx in advance,
Ron Krenzer
Rockwall, TX
email:
[email protected]
I have his highway pegs, stiffy kit, large luggage carrier, and front brake reservoir radar detector shelf. Love it all.
---
Now: 2015 FJR1300ES

Then: 2008 FJR1300A

The optimist fell ten stories. At each window bar, he'd yell: "all right so far...."
---
Last edited by Lowcountry Joe; 06-02-2016 at

06:42 PM

.
Junior Member
Training wheels fitted!
Join Date: May 2017
Posts: 1
Back rest
---
Hello Garauld, I am traveling near binghamton week of may 15 and I'm looking for just a passenger back rest in black. Is this something i have to order or would you have one to sell. Bike is 2015 fjr Thanks Dennis
[email protected]
Junior Member
Training wheels fitted!
Join Date: Oct 2017
Posts: 2
How do I purchase a pair of highway foot pegs and brackets for a 2016 Yamaha fjr1300a?
Senior Member
FJR Top Gun
Join Date: Apr 2015
Location: West Central, NJ
Posts: 1,065
---
- Jim,
AMA Life and MSTA member
2014 GenIII ES
2002 VTX1800c