Fix for leaking oil filters
---
If you want to use aftermarket oil filters, you need this modification.
Problem: Non OEM oil filter manufacturers have changed the design of their filters in a way that makes them incompatible with the FJR. Specifically, the threaded part of the filter base, which used to be concave, is now convex, so when the filter is installed on an FJR, the threaded base bottoms out on the hex section of the FJR union bolt before the rubber oil ring is adequately compressed. Since the ring does not seal, oil leaks around it.
MODIFIED UNION BOLTS AVAILABLE.
Finally got a furnace installed in my garage, updated my tooling and worked out the details so I can make a batch of modified union bolts for those who want them.
Cost will be $30, including 1st class USPS in USA. Price includes a new union bolt, so you don't need to send me your old one.
Please order before April 1 (riding season starts and I'll be riding!)
How to order: PM me with your email address and say you want info on the FJR Union Bolt Modification.
You will receive a reply with an order form and instructions.
I have a few of these bolts in stock, that I can ship right away, but am at the mercy of Yamaha parts suppliers if we get into a back-order situation. (This is not a frequently needed replacement part!)
Here are some pics comparing modified and unmodified parts...
Stock union bolt screwed into a new-style "outie" filter.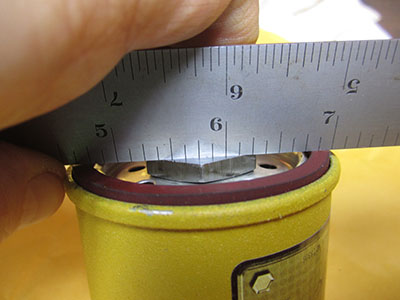 The problem: Hex part of union bolt is too thick and prevents sealing compression of the rubber sealing ring.
Union bolt before (Left) and after (Right) modification.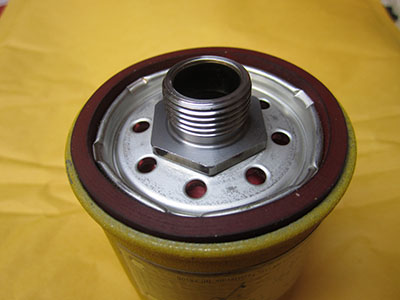 Modified union bolt screwed into new-style "outie" filter.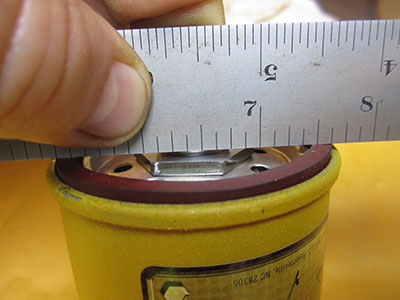 Modified union bolt provides additional clearance needed to compress rubber sealing ring.
Norm Kern
---
Norm Kern
Dayton, OH
2016 FJR 1300 ES, 2000 Suz DRZ 400e
MSTA FlyBy Week event coordinator
Motorcycle Sport Touring Association VP
Iron Butt Association member
Dayton M/C Ohio Life Member
Senior Member
Farkle Trainee
Join Date: Oct 2015
Location: winnipeg manitoba canada
Posts: 353
do all generations need this? I have an 05
Senior Member
High-G FJR Junkie!
Join Date: Sep 2013
Location: Silver City, Montana
Posts: 2,439
The real question is do all non-OEM filters require this? Have they all made their bases convex? Given the large number of manufacturers who make filters that ostensibly fit the FJR, I'm skeptical that they have all changed. Norm, what brands are you aware of that have changed?
Senior Member
Farkle Trainee
Join Date: Dec 2014
Posts: 648
Hi Norm,
Not all non-oem filters changed. IMO, the real answer to this problem is find a brand of filters that consistently keeps their filters in spec. I found that Bosch for one not only does not consistently construct that dome in the center but do not recommend their filters for FJR's. On Bosch filters I have measured the distance between the thread and rim to be different between batches. Some of the domes were concave and others convex. Purolator's for one have been consistent for me for the ten or so years I have used them. Purolators aren't the only ones. There are several manufacturers that will state they are compatible with the FJR. One thing that confuses things on our FJR's is for some reason Mama Yama recommended a shorter filter on Gen III's. Actually, I have always run the longer Purolator One 14610 with no issues.
I used to use the Bosch 3323 but they don't work anymore, the Mobile 1 M1-110 still works, at least the last couple I bought worked. I am pretty sure the Purolator PL14610 works as well.

Though it might be that any or all of these could change the configuration of the threaded part in the future.

My 08 Civic takes the same size oil filter and when I last changed it I saw that the threads in the Civic go way back up into the engine rather than terminating at a large nut like the fjr does.

I might spring for one of these adaptors in the future, if using these oil filters becomes more of a problem.

At least Norm gives us an option, I like options.
---
07 FJR 48,000 miles 03 Yamaha FJR1300
1986 Yamaha FZX700 1977 Kawasaki KX250 1978? Yamaha TY250 1979 Yamaha YZ250 1970 850 Moto Guzzi 1974? Honda XL 100 1978? Yamaha XT500 1975 Yamaha RD350B 1964 Bridgestone 90S
Senior Member
Farkle Trainee
Join Date: Nov 2015
Posts: 128
Didn't know this was an issue. Just put a fram extra guard filter on mine today and it seems to be working fine
Senior Member
Farkle Trainee
Join Date: Jul 2013
Location: Granger, Indiana
Posts: 489
It is not an issue with all non oem filters.

These things are made to spec by a number of contract manufacturers. Easy for a bad run or something.

It is odd that Bosch branded units seem to have changed permanently. Very odd that (and I'm guessing) that none of the cars they support are also affected by this seemingly major change. I'd think that spec built oil filters would follow some rather stringent accuracy requirements.

Either way, at this point (and I could be wrong), I have only heard of Bosch changing to convex.

I have not seen anyone on any forum ever mention any of the other common brands making this change.

Has anyone else?

Either way, I'd switch to any of the other good brands before going Frankenstein on anything. IMHO.

MOBIL M1-110 is about $8 on amazon and works for me.
Senior Member
High-G FJR Junkie!
Join Date: Dec 2013
Location: Little Rock, Arkansas
Posts: 2,188
Well, I have to say again that if the manufacturer of the filter won't specify it for my bike, I won't use it. The last time I checked, Bosch doesn't specify a filter for our bikes. Wix does, so I've been using their 51358. No problems.

And, the last time I changed my oil, Amsoil specified their EAOM103 oil filter, and it does fine.
Senior Member
FJR Top Gun
Join Date: Dec 2015
Posts: 1,401
I am not against modifying things. God knows my Bandit will prove that but............................................... ..........
Buying a modified mount for $30 to fix a DEFECTIVE $8 oil filter seems like a fools errand to me.
---
Professional Mechanic
2014 Yamaha FJR
2001 Suzuki Bandit Highly modified
Senior Member
High-G FJR Junkie!
Join Date: Apr 2013
Location: Corinth, TX just south of Denton on I35E
Posts: 3,095
Quote:
I used to use the Bosch 3323 but they don't work anymore, the Mobile 1 M1-110 still works, at least the last couple I bought worked. I am pretty sure the Purolator PL14610 works as well.
The Purolator PL14610 and its shorter brother, the PL14610, work just fine. They still have the concave base.
You know what I wonder? I wonder if someone in the filter factory loaded the filter bases into the production machinery upside down.
All that would take is a change in the packaging somewhere in preproduction.
---
Time spent looking at motorcycles, even Harleys, is never wasted.

2013 FJR1300A
1984 GPz750
Series III fairing removal:
To view links or images in signatures your post count must be 10 or greater. You currently have 0 posts.