Passenger Foot Peg Lowering Kit
---
Dude!
I hope your lowering arms have arrived by now!
Anyway, I ordered a set last night. I should have them sometime next week.
Ordering this item from Germany was really simple. They use a PayPal system that lets you use PayPal directly or you can use a credit card. Then you get the option to use PayPal's exchange rate or whatever rate the vendor wants. I chose the PayPal rate because it was listed and wasn't too high.
My only concern at this point is that after I placed the order I noticed that they list the model years that this item will fit, and they exclude 2013 thru 2016. I have a 2016. Fingers crossed.
Anybody know what, if anything, changed for the Gen 3 passenger pegs?
Chris
---
Chris Shoop
2016 FJR-A, 2008 FZ6 Blue
Parkersburg, WV
They need to make rider lowering brackets.
---
No commercials. No dictators.

To view links or images in signatures your post count must be 10 or greater. You currently have 0 posts.


2018 FJR1300ES Stealth Model

IBA# 69560
The lowering arms arrived from Germany and they look and work great. They look so much a part of the bike that you really need to look to see that they are add ons.

There was no hassle with shipping from Germany. But it took a while, 3 weeks, and the tracking systems had no info for a week after DHL put the package on the ship and before it somehow materialized in Cincinnati OH in the USPS system. The vendor shipped this with a signature required - added a day.

The 2016 passenger pegs slipped right in. I found that the difference for the later foot pegs is simply that Yamaha started using a softer rubber with more of an air bubble that might be intended to provide better vibration isolation. The prior version were like the peg covers on my 2008 FZ6, harder rubber, simple flat solid core strip that has the same mounting points for two screws. I'm replacing the covers on my rider peg with the older version. The 2-yr old pegs on by bike are getting torn up.

Time to ride!
---
Chris Shoop
2016 FJR-A, 2008 FZ6 Blue
Parkersburg, WV
Junior Member
Training wheels fitted!
Join Date: Oct 2017
Posts: 5
Chris,

Sorry for the delay. I am glad to hear that yours bolted up well.

I have Vance & Hines slip ons and they didn't fit correctly. Additionally the left one interfered with the center stand.

My buddy has a machine shop, so after a few mods they finally fit like they are supposed to. My wife loves the lowered position,
Senior Member
Farkle Trainee
Join Date: Jun 2017
Location: Seattle
Posts: 471
---
As MCL seems to be out of business.
Looking for some passenger peg lowering brackets so the wife can ride with me more comfortably.
Anyone order,ed installed and used these German-made Bruudtcnc passenger peg lowering brackets?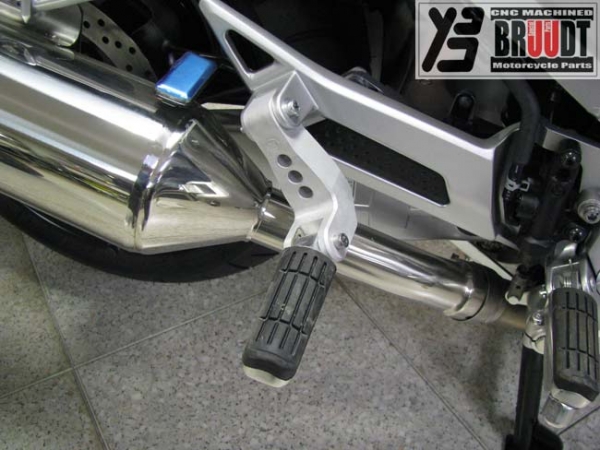 How was the fitment?
Did passengers like?
Would like to know the general turnaround time too.
---
2005 Yamaha FJR 1300A
2003 Honda Gold Wing GL1800A
1985 Kawasaki GPZ900R Ninja - Past
Toyota 4runner/Tundra/Land Cruiser
Nash 17K Travel Trailer
---
Last edited by jtdunc; 08-11-2019 at

05:45 PM

.
I do have them installed on my 16' and my wife love them
Great quality parts and they look OEM
I do recommend them
Ride safe
Marcelo
I forgot to answer your question about the turn around...
I took 10 days from the moment I placed the order
Pardon me, I should said it took me 10 days
Senior Member
Farkle Trainee
Join Date: Jun 2017
Location: Seattle
Posts: 471
Thank you!
---
2005 Yamaha FJR 1300A
2003 Honda Gold Wing GL1800A
1985 Kawasaki GPZ900R Ninja - Past
Toyota 4runner/Tundra/Land Cruiser
Nash 17K Travel Trailer