I ride all year round in Chicago when it is not snowing or icy. I have excellent winter gear and love it. No issues with salt as they clean roads pretty good after snow in Chicago and I will take my motorcycle out when snow and salt are mostly gone. FJR has good engine covering as well. Not worth not riding motorcycle coz of salt or cold weather. Even a 45 min ride gives so much contentment and pleasure.
---
Current Motorcycles
2014 FJR 1300 A Red

2007 Triumph Bonneville T100 Carburetted
Senior Member
High-G FJR Junkie!
Join Date: Apr 2013
Location: Corinth, TX just south of Denton on I35E
Posts: 2,986
I live in north Texas. We don't really have a real winter here. Oh, we get an occasional cold spell when the temps snap down below freezing and we do get a bit of frost and snow on the ground but I don't need heavy duty winter riding gear.


Even with a mesh suit my riding temperature range is about 85F from about 35F to 120F.
---
Time spent looking at motorcycles, even Harleys, is never wasted.

2013 FJR1300A
1984 GPz750
Series III fairing removal:
To view links or images in signatures your post count must be 10 or greater. You currently have 0 posts.

This whole Winter thing really puts a damper on my riding and enjoyment of the bike(s). It was only 60F outside this morning! I almost froze to death just looking out the window! We probably won't even get up to 80 degrees F today. If I did not have heated grips and that wonderful electrically adjustable windshield I probably would not be able to ride more than 2 or 3 months a year!
Two weeks ago I took a dual sport ride to the Far North and I suffered horribly. I went all the way Up North to North Carolina! And it was really cold!
Proof: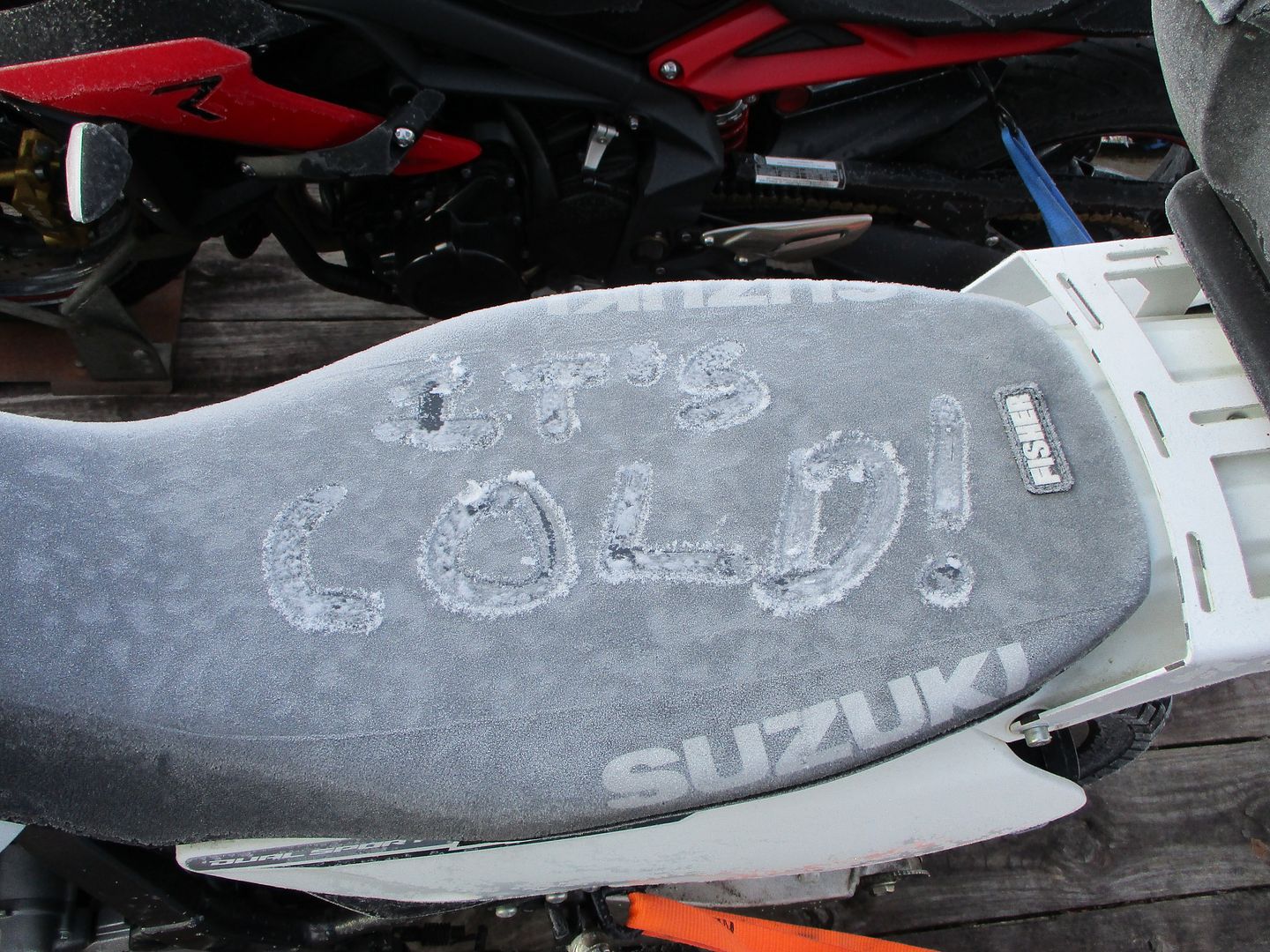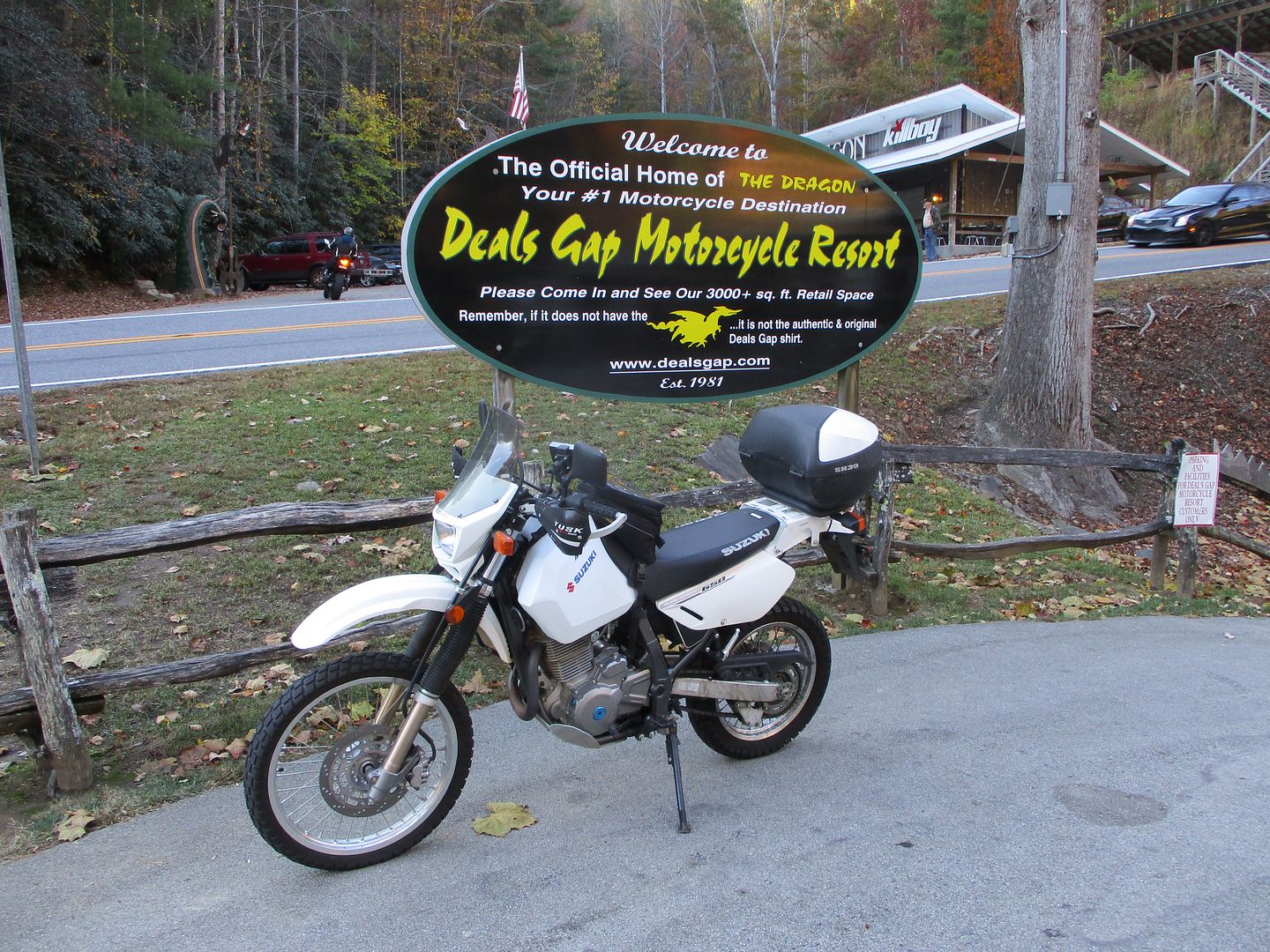 ---
Never run out of ideas, traction, and real estate at the same time.
Shoot we wont see 60 again until next May
Senior Member
Farkle Trainee
Join Date: Dec 2016
Location: CDA, Idaho
Posts: 548
Im probably done for the year. I need the winters to complete the projects that have been started. There are still a few good days I could ride, problem is the lack of daylight. Cant really go to far. Usually get back on the rode in March. I start to go stir crazy in late jan - Feb.
---
2013 FJR1300 and other bikes
Senior Member
FJR Top Gun
Join Date: Apr 2015
Location: West Central, NJ
Posts: 1,347
Quote:
I'm also a year round rider as the PNW typically hovers in the upper 30s and mid-40s in the winter. Ride with 4-season heated jacket liners, overpants and battery operated heated gloves for now. Installed Oxford heated adventure grips and love them. Added Vstrom handguards and added Garauld's handguard extenders. Put on the huge Rifle windshield.
Looking at my company's motorcycle parking lot and looking at the roads on the Eastside, maybe only 15% are riding in the light rain, showers and colder temps. Snowflakes!!!!! Tonight I was at my favorite dealer and they were complaining that too many of their Eastside customers are far weather riders. Hard to sell heated gear? I was looking at a heated jacket liner and a set of heated glove to power with 12V so I can go on long rides during the "Long Dark".
Riding all year gives you a chance to really work on your skills, techniques and strategies - commuting, low speed handling, smooth transitions, defensive riding. My Harley co-workers call me RED (Ride Every Day). Appreciate the chance to ride through the winter but not when black ice, snow, sub-freezing temps or other dangerous conditions like flooding are around.
Ha Ha! Eastsiders. jt, I only laugh because when you say Eastsiders, many don't realize the weather of Seattle. Most only know of a perceived rain climate 24/7/365 as Seattle seems to promote. I think this driven perception was to keep outsiders away.
I travel to Seattle a lot and am going to bust this theory wide open.
I consider Seattle the San Diego of the northwest only with mountain scenery. Here's my observation: There is a microcosm of weather that prevails around the seattle area where you could ride year round without it dipping into the freezing zone. Most inhabitants of the area do not have air conditioning, but do need a heater. It is Sunny more often than not and on a clear day can see all the way down to Mt. Hood. Mt Rainier is magnificient to see, especially everyday. I am jealous, obviously.
Now the eastsiders, realizing this magnificent living in your town, a little more than 15 miles east of Seattle, they ski well into June! Some horrific winters there in Snoqualmie pass area. So it is understandable that many don't ride in the winter. I love this area of the world, ski in the morning, ocean swimming in the afternoon. It doesn't get better than that. You, my friend, are a lucky person! And your riding area! Magnificent!
---
- Jim,

2014 GenIII RED ES
2002 RED VTX1800c, she is STILL sweet!
I don't mind the cold! I just don't want to ruin my new baby with all the salt! I have a nice watertight shed that I would put her in but I already have the other bike back there.
---
2007 Yamaha FJR 1300A - Black Cherry
1986 Kawasaki 454 LTD

"I haven't faced death. I've cheated death. I've tricked my way out of death and patted myself on the back for my ingenuity; I know nothing."
Senior Member
Farkle Trainee
Join Date: Jun 2017
Location: Seattle
Posts: 517
@
FjrjrF
Thank you. Western Washington has a dozen awesome mountain and high country areas to ride such as the Cascade Loop where you can do sweeping turns at XXX MPH. Beautiful mountain views and you can ride the ferries to get to the Coast and see beautiful vista's of the Pacific Ocean. Or you can hit the deserts and hotter regions in Eastern WA. We just pay 10% sales tax and like our coffee and Tesla's too much. But you have to get used to the dark long winters.
---
2003 Honda Gold Wing GL1800A (Current), 2005 Yamaha FJR1300A (Former), 1985 Kawasaki GPZ900R Ninja (Former)
ATGATT - My Safety Gear Has Saved Me Twice!
Seattle/Eastside - Pacific Northwest Outdoorsman (Salmon & Shellfish)
I live in Northern California. Never see snow, never see salt. I ride all year.
I have some of the best roads in the U.S. in my backyard.
BwaaaHaHa.
---
bike X miles=smiles
smiles ÷ bike=miles
smiles ÷ miles=bike.
It's simple math.

To view links or images in signatures your post count must be 10 or greater. You currently have 0 posts.

Quote:
I live in Northern California. Never see snow, never see salt. I ride all year.
I have some of the best roads in the U.S. in my backyard.
BwaaaHaHa.
I would have given you a like for your post but you rubbed it in my face with the "Bwaaahaha".... also I'm kinda jealous.
39 degrees and dark when I got in from this evenings ride (Watched sick grandkids all day) but that ride took me over 19K for the year
---
SW Ohio
2018 Yamaha FJR 1300A
2014 Honda CB1100 DLX

It doesn't matter what I ride, where I ride, how fast I ride, or how far I ride... it only matters THAT I RIDE...EVERY DAY. "Ferret"