Pop is Ready to Ride
---
With YFO rapidly approaching the distance between South Louisiana and Central California is weighing heavily on my thoughts. More to the point, can Dear Old Dad actually ride that far? Can he Man Up and tough it out? He is getting older and he has not been out of the hospital from his crash very long. Without picking on any group we can all name some motorcycle owners that would not consider taking such a long ride even in the peak of health. Pop definitely is not as strong as he was and he has a few lingering issues...
We decided we needed to make an overnight trip somewhere. We needed to see if he could go all day, sleep in a strange bed, and then get up the next day and do it again. We wanted to go to the Texas Hill Country but I devised a different plan. I asked my friend hppants for his thoughts on my route and he approved. That helped my confidence, he instantly understood my plan. Having smart friends that also ride is invaluable.
I figured I could weave my way back and forth into Mississippi on low speed, low traffic back roads. We could work our way North and never really get very far from home. Worst case if things went badly we could jump on Hwy 61 and head straight back home. Of course, I know Pop and I never expected that to happen and thankfully it didn't.
I had a nice country breakfast, (Thanks Mom!) and Pop and I eased our way through a gloriously beautiful morning. As we passed through Walker, LA the temp was in the low 60s, the morning sun gave a gold glow to everything and our fuel warnings began to flash. We fueled up just north of Walker and since that was Pop's first time EVER putting fuel in his new '14 he had me watch him reset the trip meters and the Avg Fuel.
We worked our way into Mississippi, I did everything I could to keep us on roads that neither of us had ever ridden.
Of course this led to some "interesting" moments, like this little wooden bridge and the badly cratered asphalt on either side.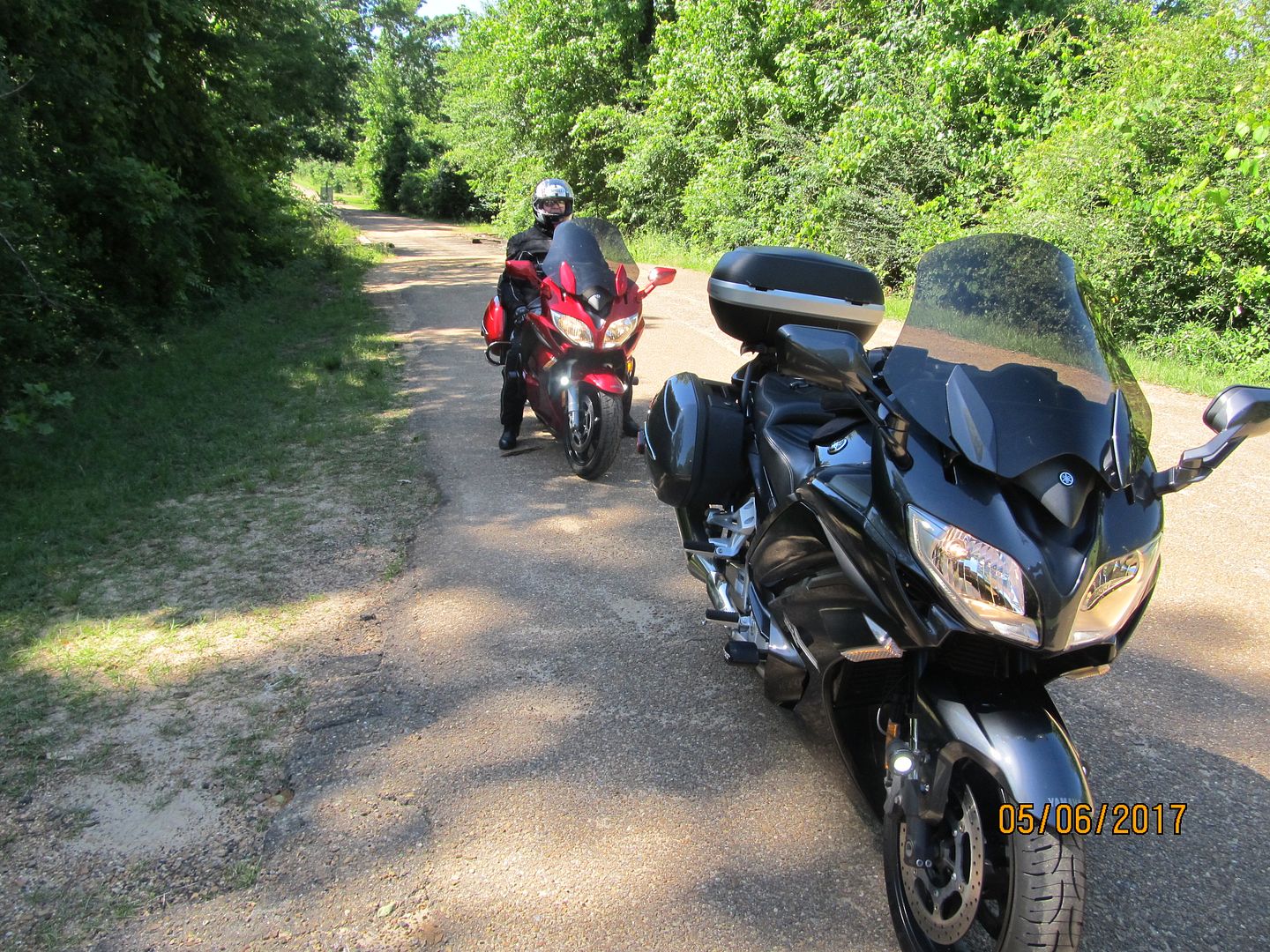 My first "destination" was Billy Bob's BBQ in Port Gibson MS. This little hole in the wall produces some of the best BBQ ribs I ever tasted. I had only eaten from there once before and that was several years ago on another Motorcycle Trip that went badly.
We got our plates to go and headed for the Natchez Trace for a rendezvous with a picnic table. When we got there we found a very nice gentleman named David with a Moto Guzzi Stelvio.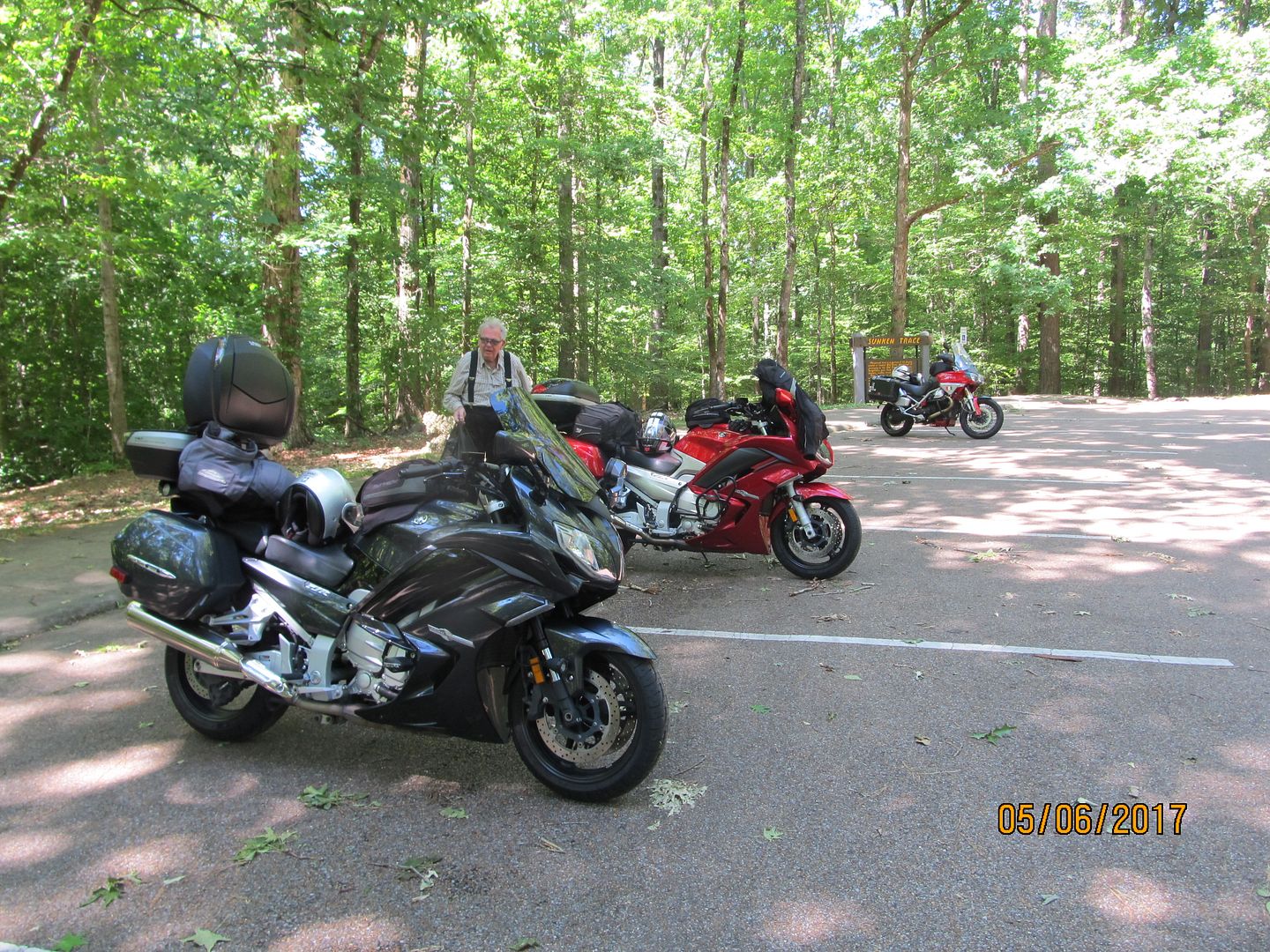 David had also stopped in Port Gibson looking for lunch but he had found a Subway. He thought he was going to eat his Subway Sandwich at the one picnic table available. When he saw this: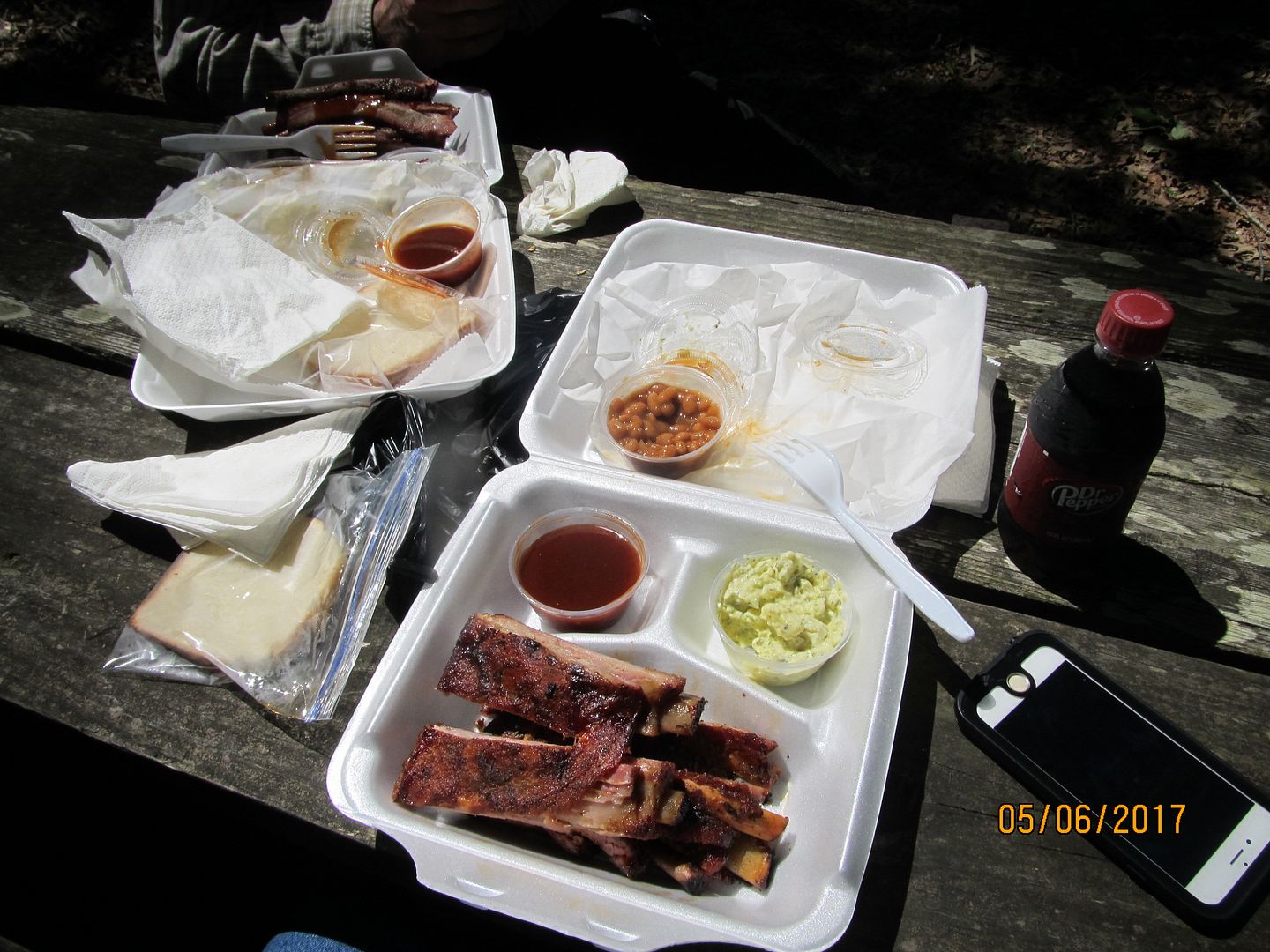 He changed his mind. He threw his Subway in the trash and helped us eat those BBQ ribs. He seemed to appreciate our generosity and we had a nice visit there in the shade of the oak trees. I hope he had a good safe ride after that, he was a nice fellow.
We took the Trace north for a while, took a parallel twisty road for a while, got back on the Trace, and weaved our way north past Jackson MS.
My next "destination" was The Mississippi Petrified Forest just outside of Flora MS.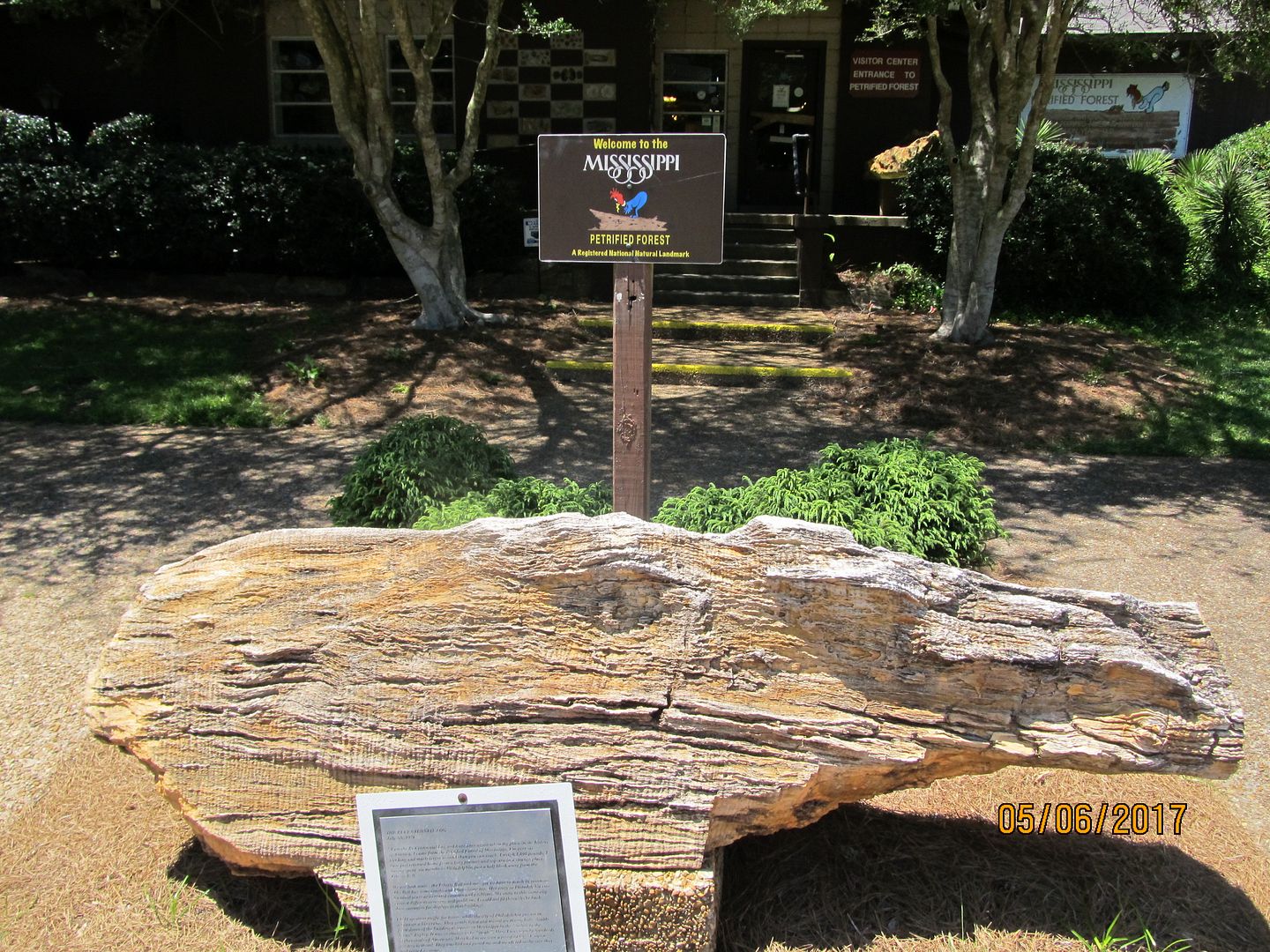 Yeah, I know what you're thinking. A Petrified Forest in Mississippi? Can't be much to it... My friend hppants had included this in a RR a few years ago and I wanted to see it.
It meant a half mile walk through some Mississippi hills after we had ridden all day. And how was Pop holding up?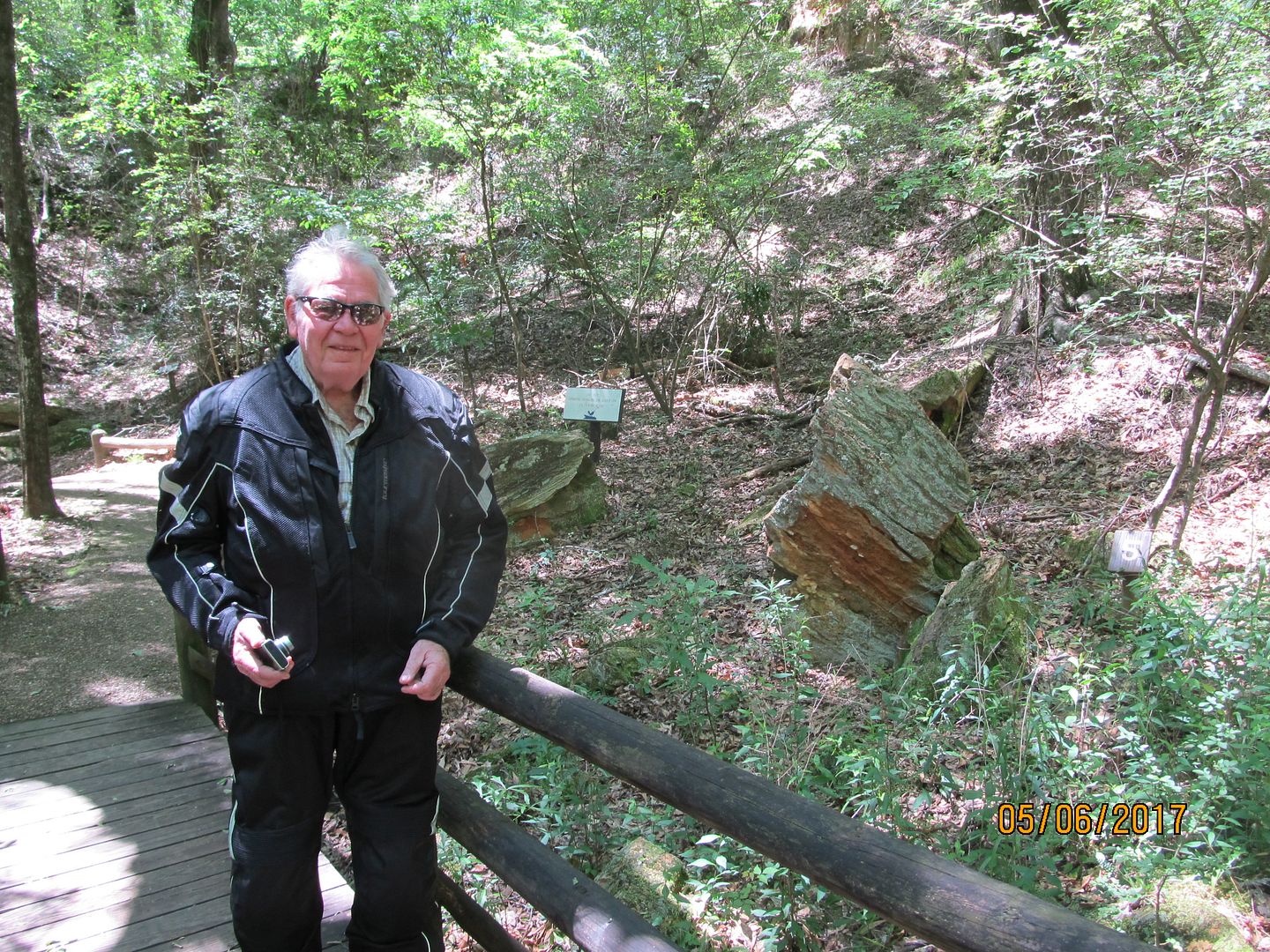 There was way more petrified "wood" than I expected.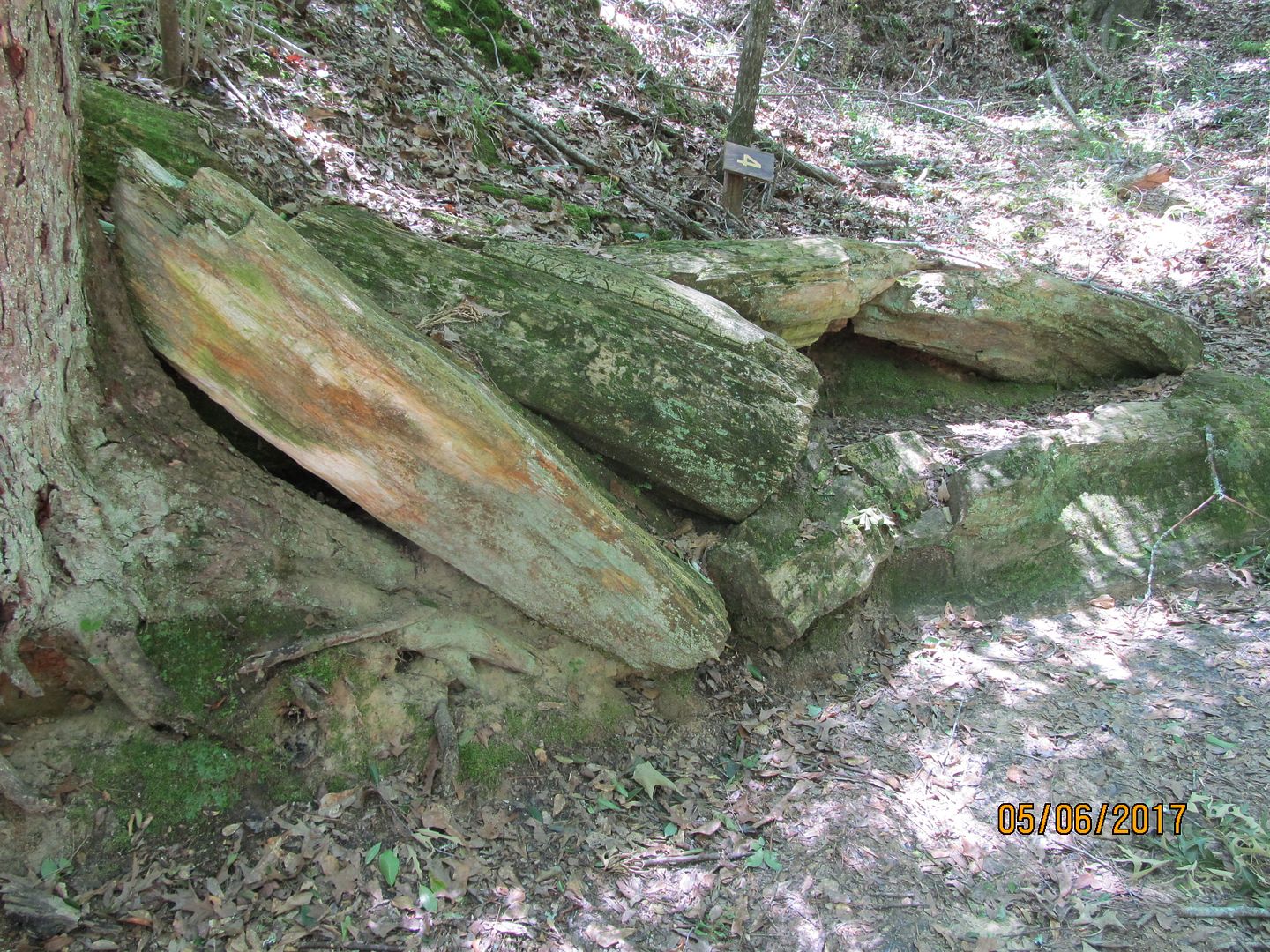 According to this sign this petrified log weighs almost as much as Mrs. Redfish: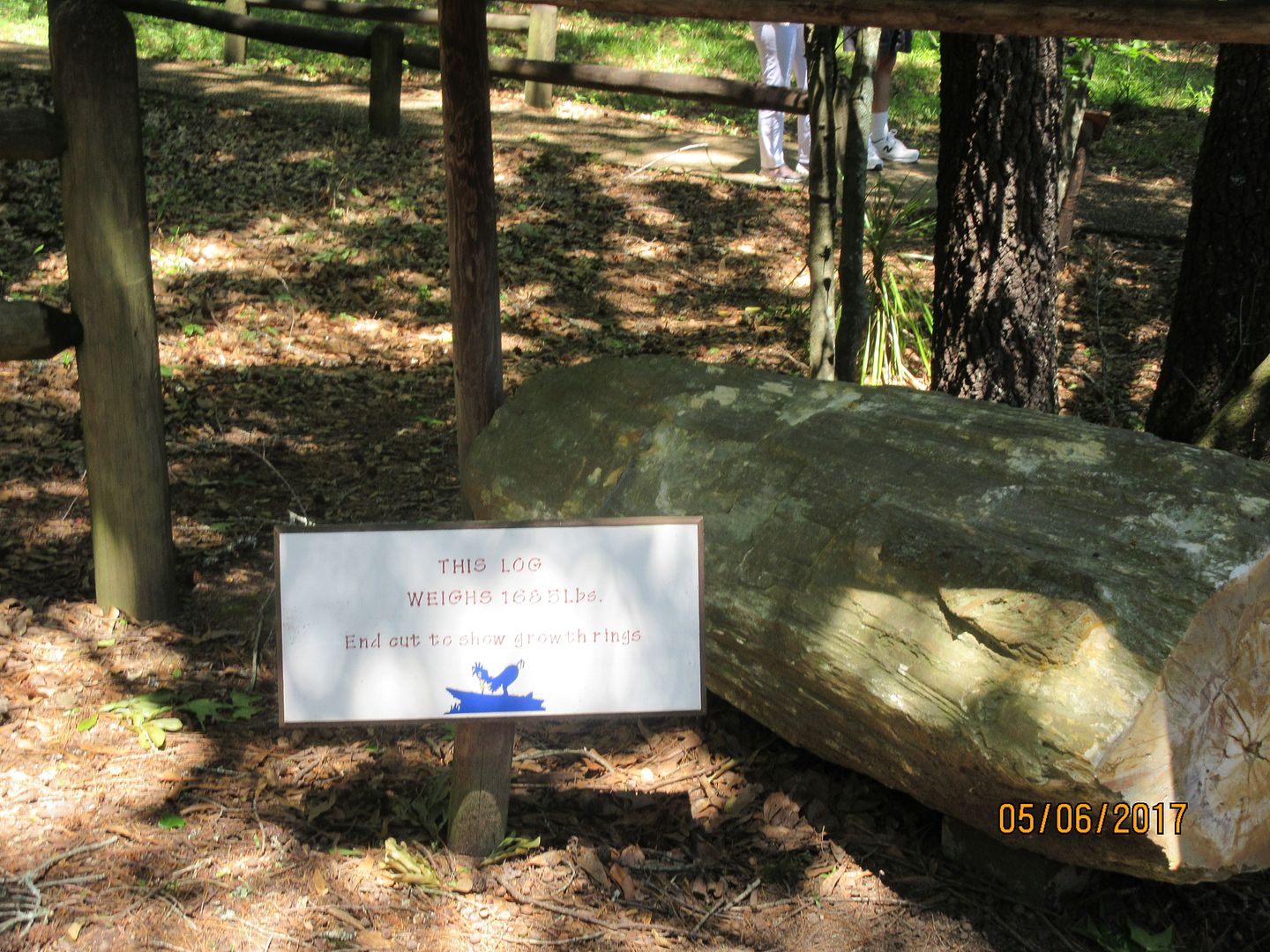 I was my usual cheerful smiling self: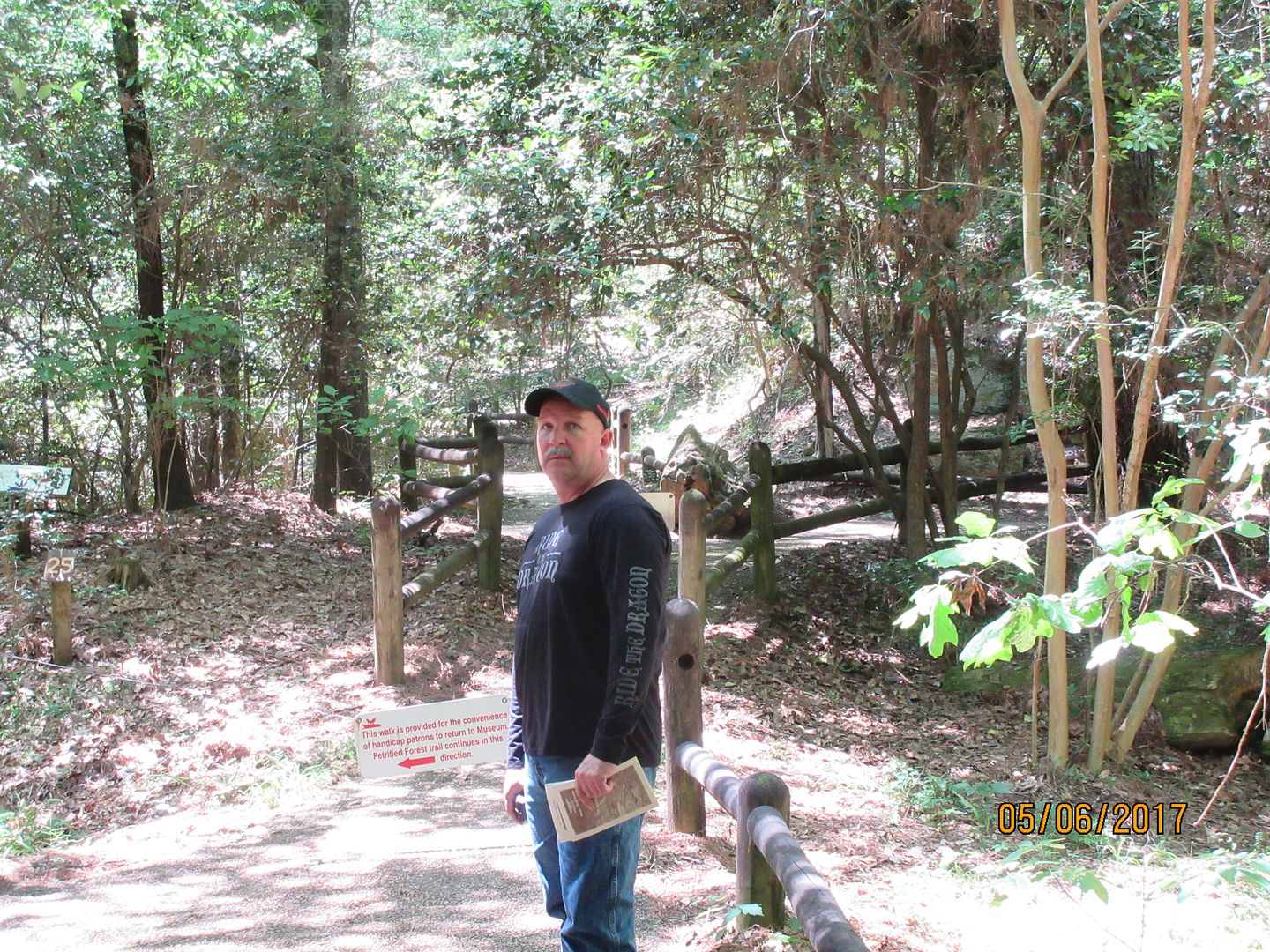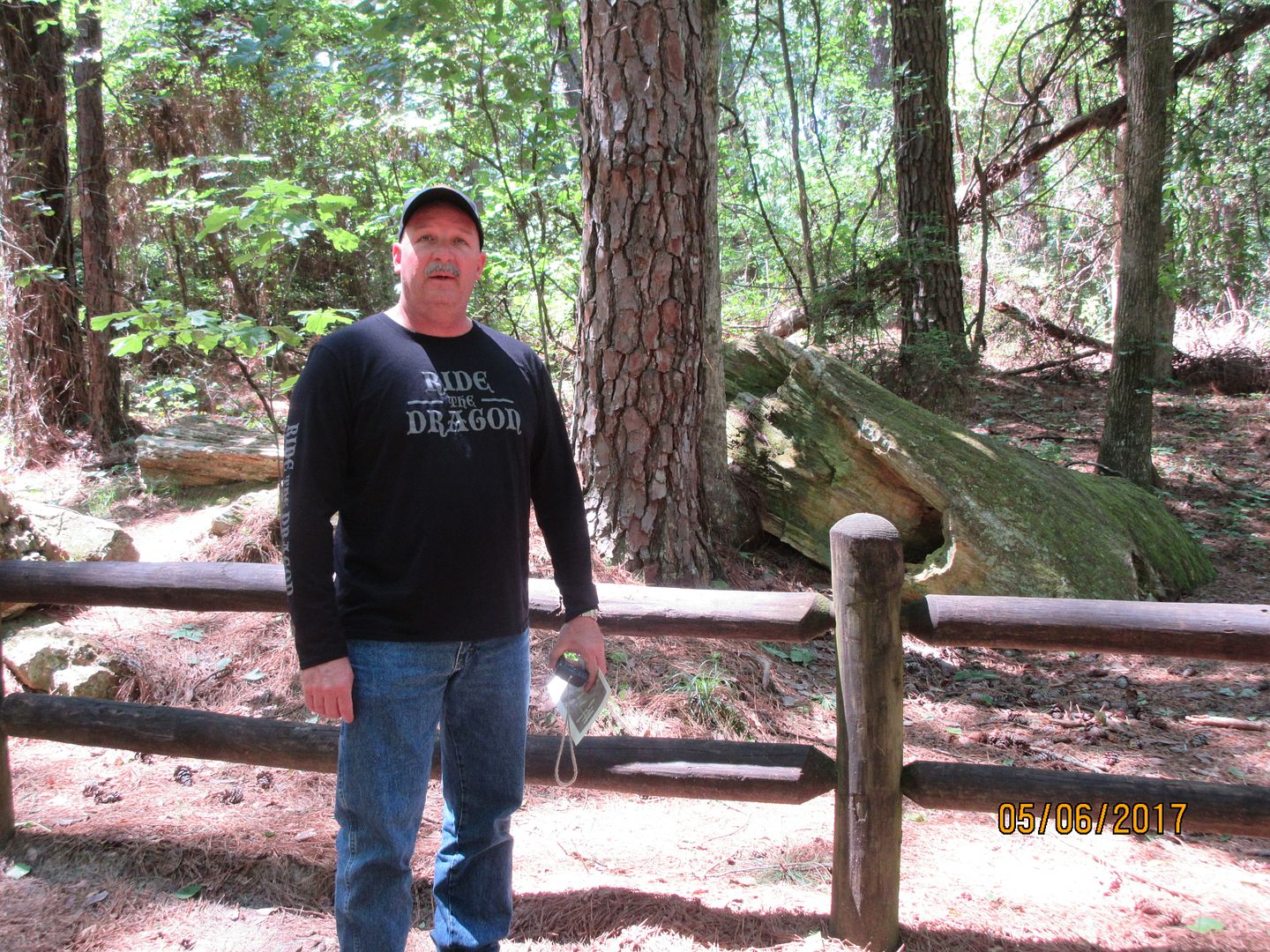 I enjoyed this more than I expected and Pop did too. A good little experience for sure.
---
Never run out of ideas, traction, and real estate at the same time.
We pointed the bikes West toward Vicksburg along Old US Hwy 80. This road was nice for the most part but as we got closer to Vicksburg it got very very rough.
We found the Vicksburg Battlefield and decided to get a hotel room, unload our luggage and return to get some information before we attacked the next morning.
Our low fuel warnings had begun simultaneously about 7 miles before we reached town so we fueled up together. Pop had filled up with mid-grade gas that morning and I had used the Plus. When we compared I had used exactly 0.007 gallons less. Actual mpg was 50.56, the bikes indicated a little over 52.
We got a decent room at the Quality Inn about a mile from the battlefield, mostly because it was next door to a Cracker Barrel restaurant. Yeah, I know but the food is cheap, it's usually decent, and the next morning there would be Breakfast. Cracker Barrel does a good breakfast.
We unpacked the bikes but when we started to leave for the battlefield I saw a piece of wire sticking out of Pop's rear tire. So...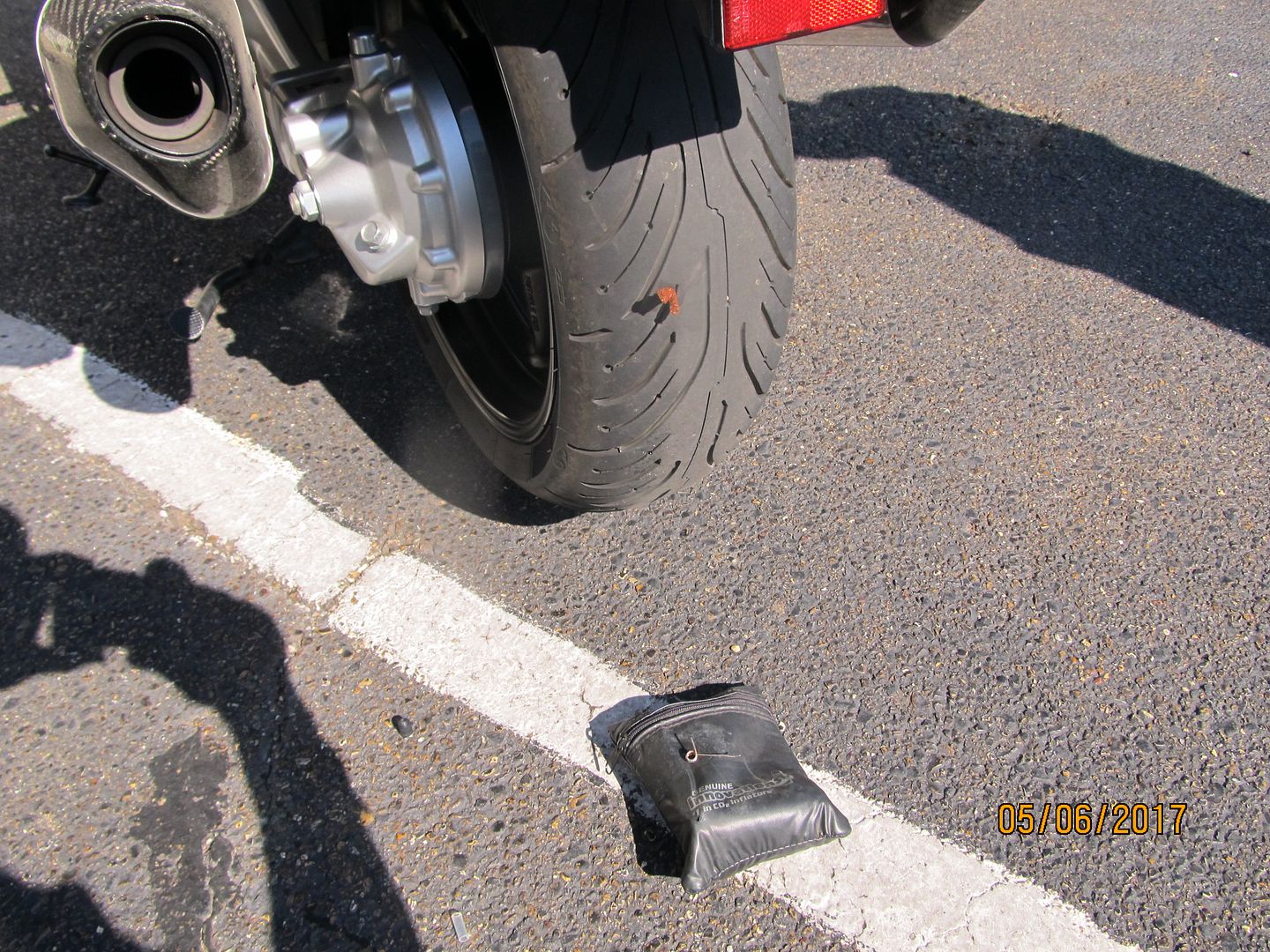 That delayed us and we arrived back at the visitor's center at 5:05pm. They close at 5:00 pm.
At least I was not upset.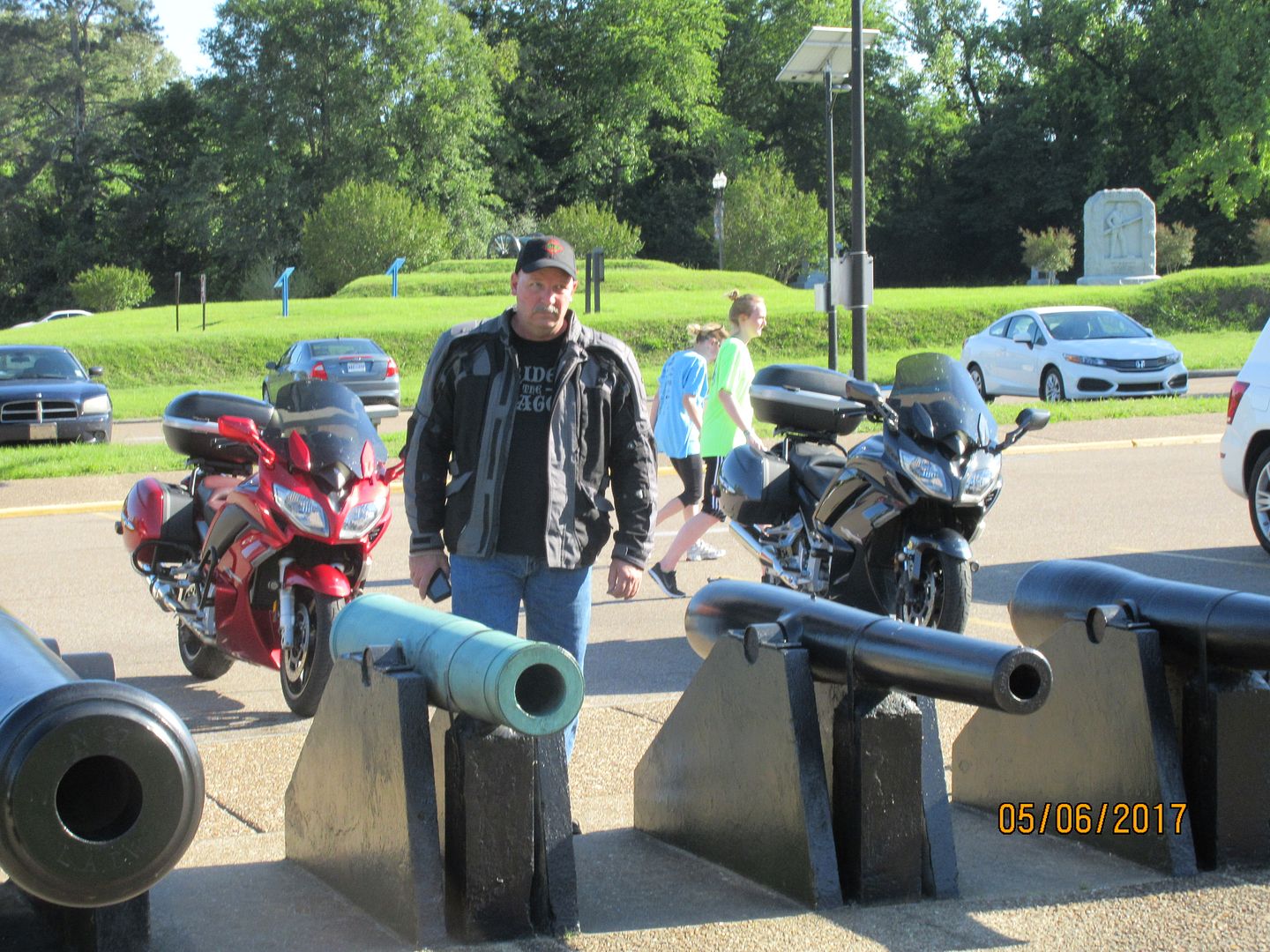 So we had a surprisingly good supper at Cracker Barrel and turned in early. Pop seemed to be happy and healthy and in good spirits. He (God Bless Him!) produced a flask filled with Russell's Reserve and we sipped that excellent bourbon while discussing the events of the day and the goodness of his new FJR. We both missed the '07 and we tried not to get depressed thinking about the goodness of that bike all destroyed.
We went to sleep looking forward to our visit to what we knew would be a Very Depressing Place.
---
Never run out of ideas, traction, and real estate at the same time.
Sunday morning was spectacularly beautiful and our Cracker Barrel breakfast was excellent. Pop's plugged tire had not lost any air pressure overnight so we headed to the battlefield.
There is a nice display of artillery along the edge of the parking lot:
The power of our FJRs was dwarfed by the awful capabilities of these monsters. The left most of these weighed over 9000 pounds. I cannot guess what the monster in the middle weighed.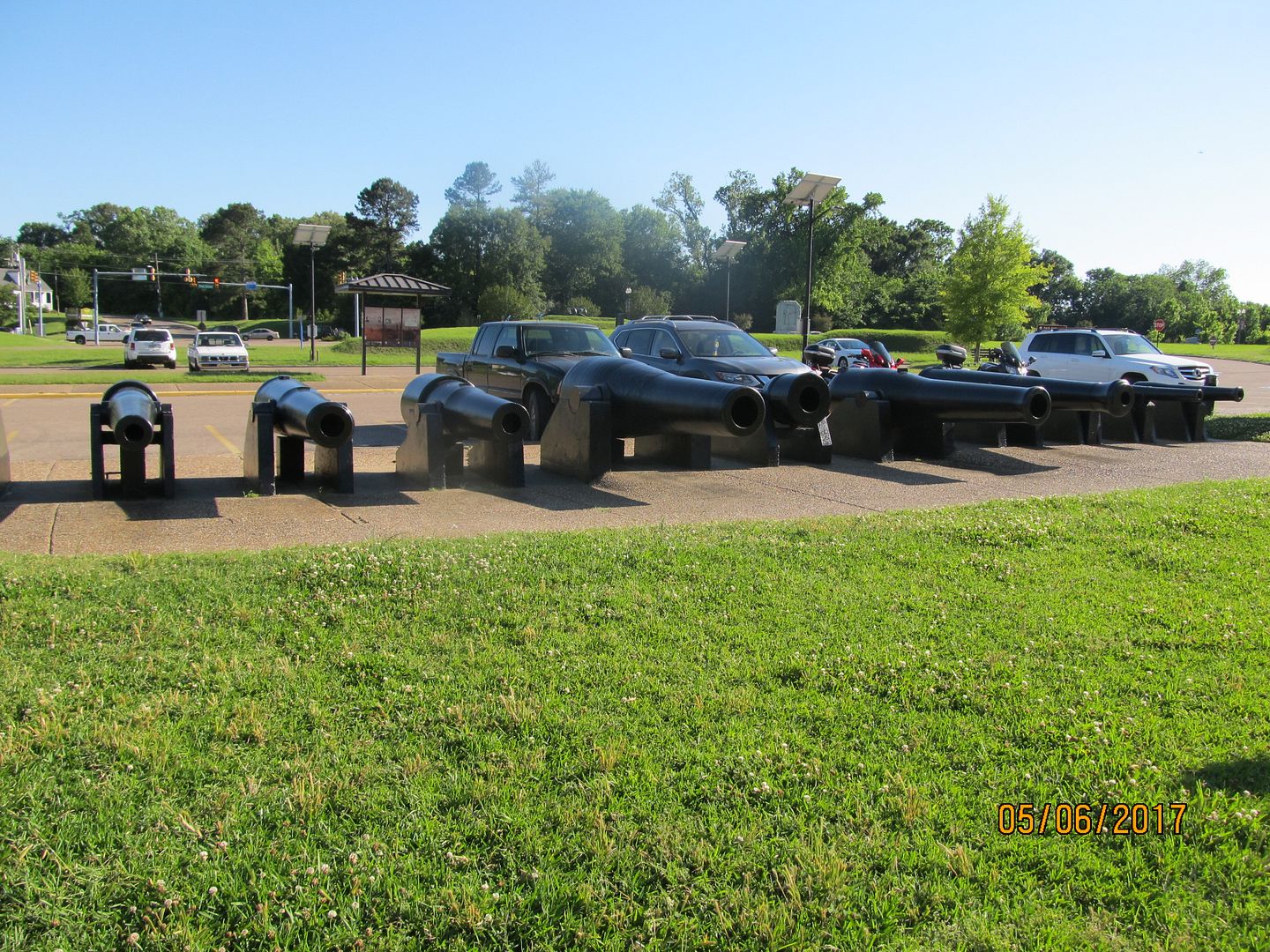 I am going to try not to get too deep into this...
I hate the Civil War. What a F'ing oxymoron. Civil + War do not go together. All wars suck, most are unnecessary. The Civil War pitted brother against brother, neighbor against neighbor, I cannot imagine what that was like and I don't want to. I have a keen interest in the weapons and the ironclads of that war but don't care much about the individual battles. This is not because I don't respect the soldiers and what they did, I don't respect the reasons for what they did.
When visiting a place of historical significance I often try to imagine myself There When It Happened. I promised myself I would NOT do this at the Vicksburg Battlefield.
And then we crossed into the Union Lines...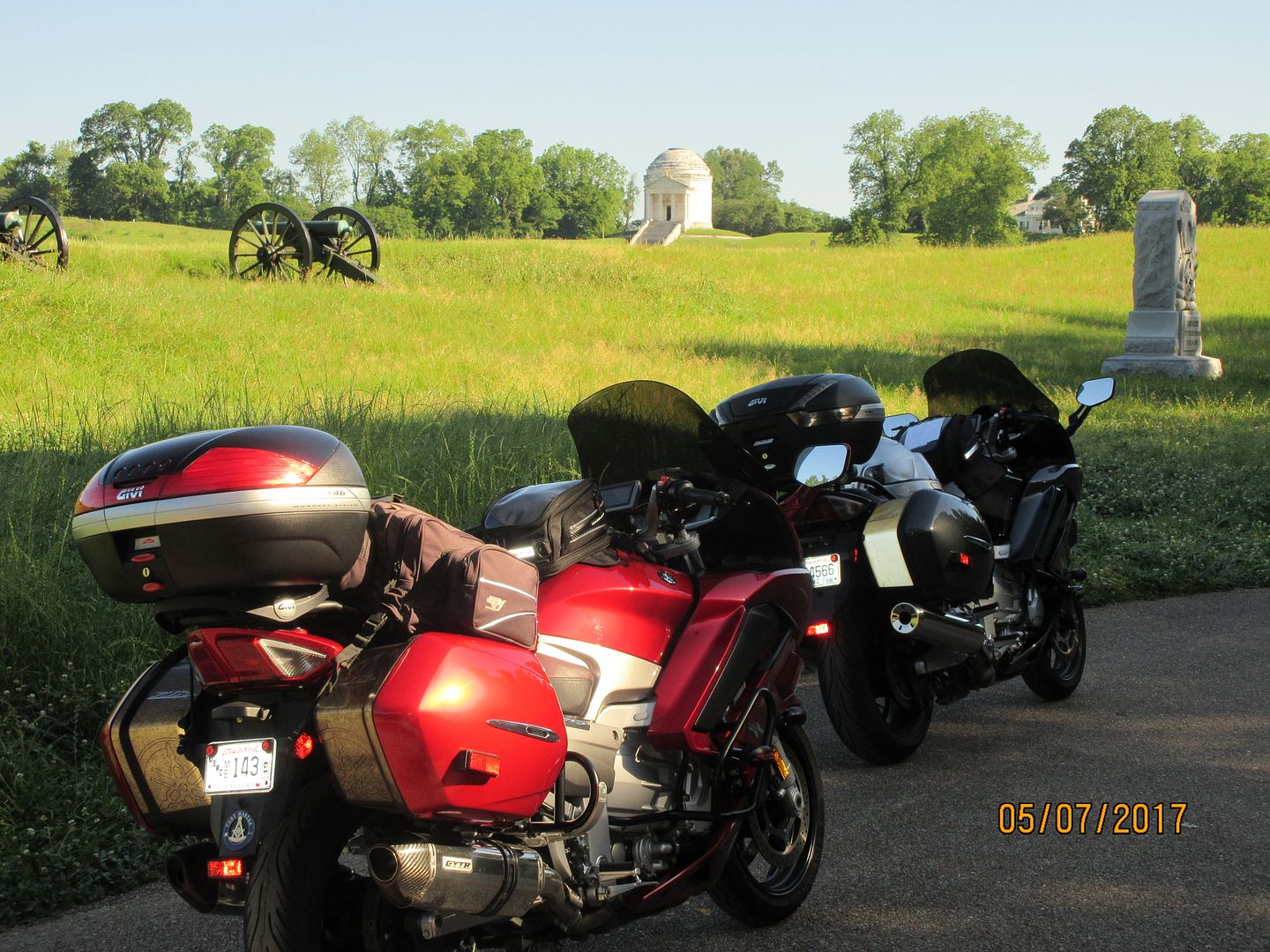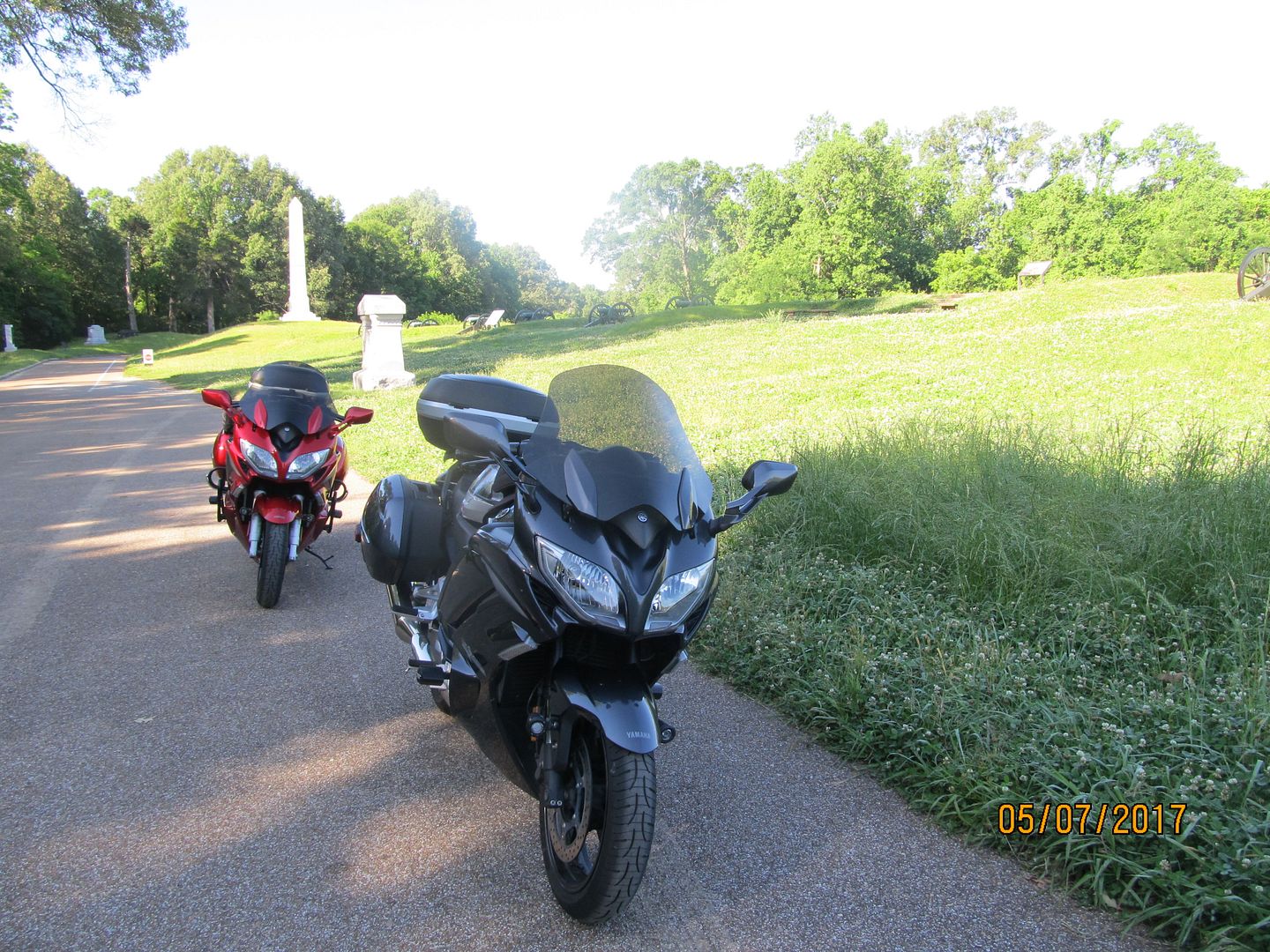 Everywhere soldiers were lost there is a monument to that regiment and that state. You can see some of that in the background of the above pic. Then, somewhere in this vast killing field each state that lost soldiers has a larger, more significant monument.
These are Union cannons behind me. In the background the Illinois Monument with its beautiful marble dome is visible.
At this point I am seriously regretting my decision to come to this beautiful, awful place. For this pic, that expression is real.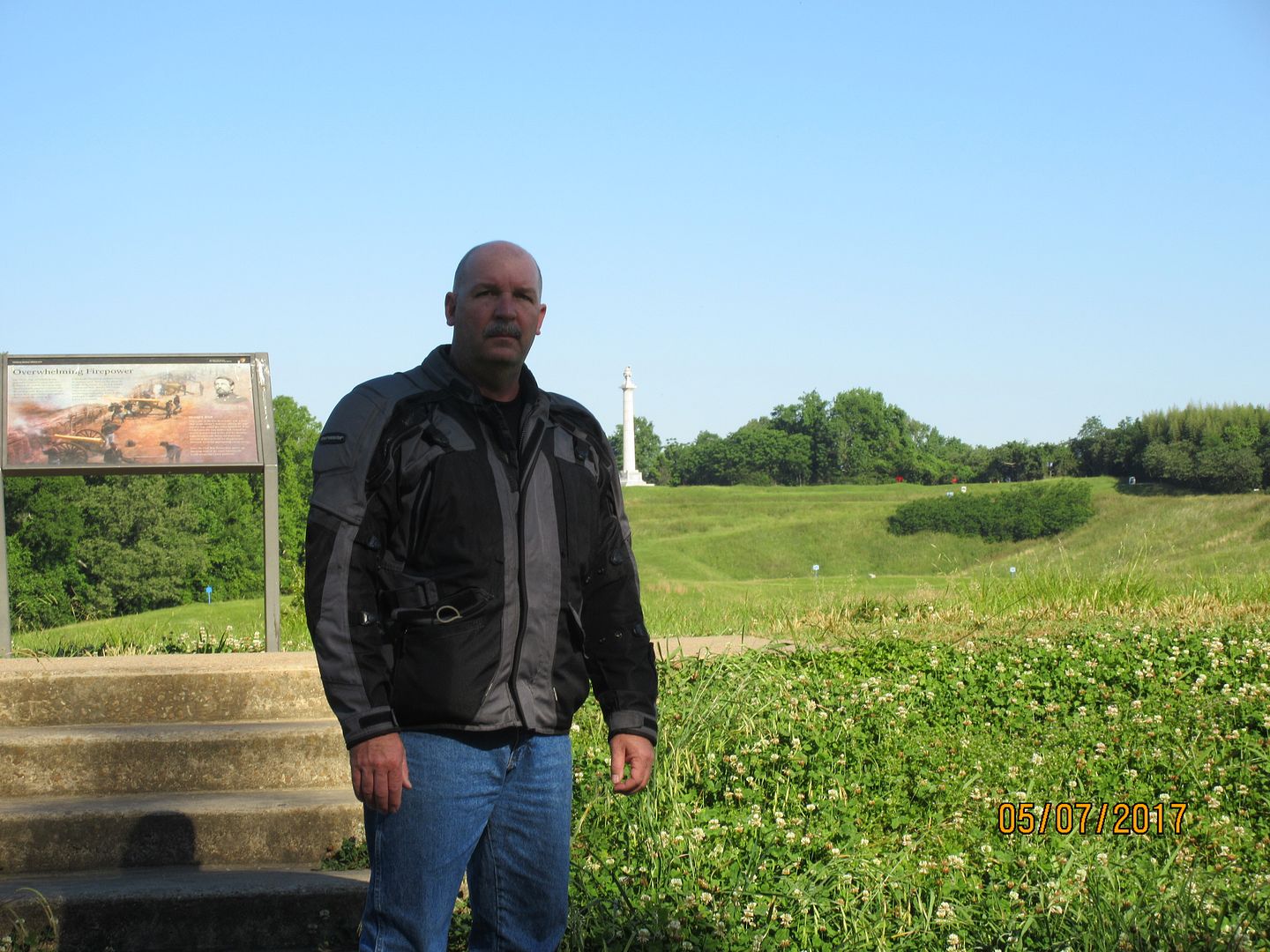 ---
Never run out of ideas, traction, and real estate at the same time.
The Illinois Monument:
Looking down from the top steps it hit me that our bikes were Confederate Colors, Red and Gray. We were from Louisiana, would we have fought for the South? Which side would we have chosen? Which side was right and which was wrong? Would we have known enough to make a choice or would we have just went blindly with our neighbors to fight the Yankees?
Pop's response? "I don't think I could ever fight for Slavery. I hate Slavery in any form. I think we would have been deserters and we would have just Headed West. But you never know."
The park itself is beautiful. It was nice and cool, the little one way tour road wound its way up and down some surprisingly tall and steep hills. We were mostly 2nd gear 2K RPM and I was enjoying the slightly deeper growl of the GYTR mufflers on the shiny red bike behind me. They are not loud at all but they give the FJR a much deeper voice. I had some really happy thoughts for my friend G Squared who sold us that bike. He did us some goodness.
Finally, I found something I could relate to: The USS Cairo.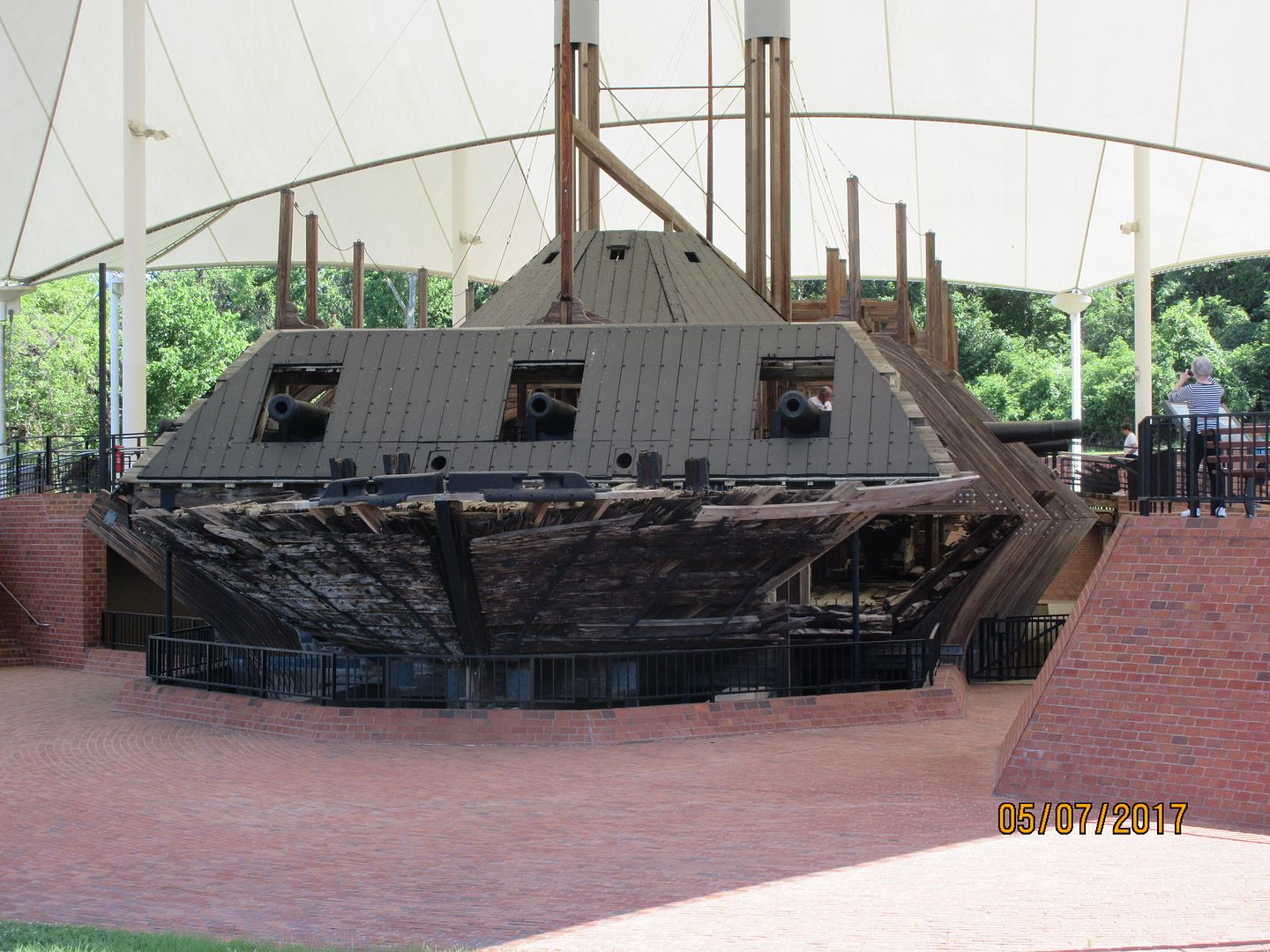 Look at how thick the iron plating is on the front of the super structure: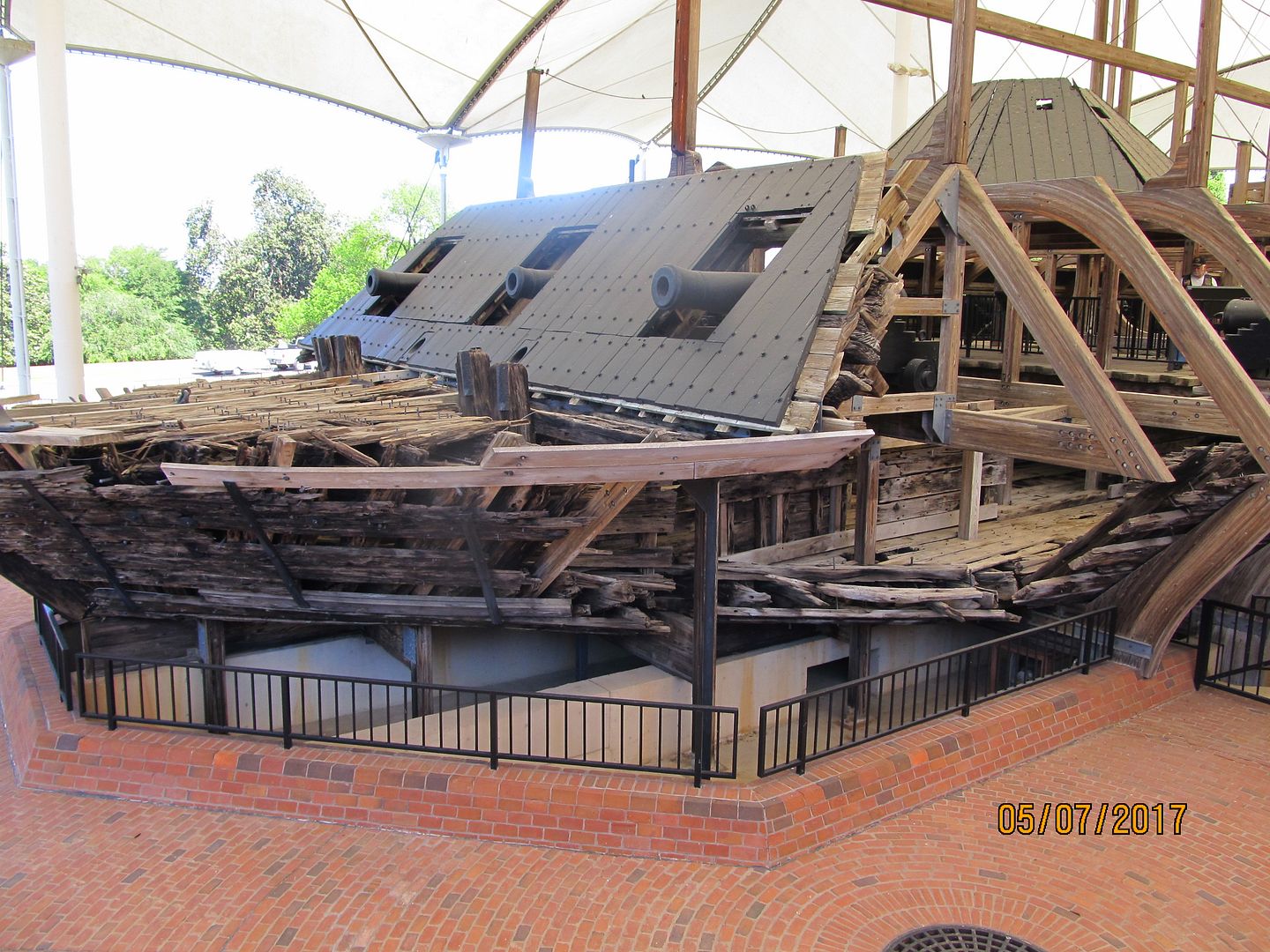 And again on the sides: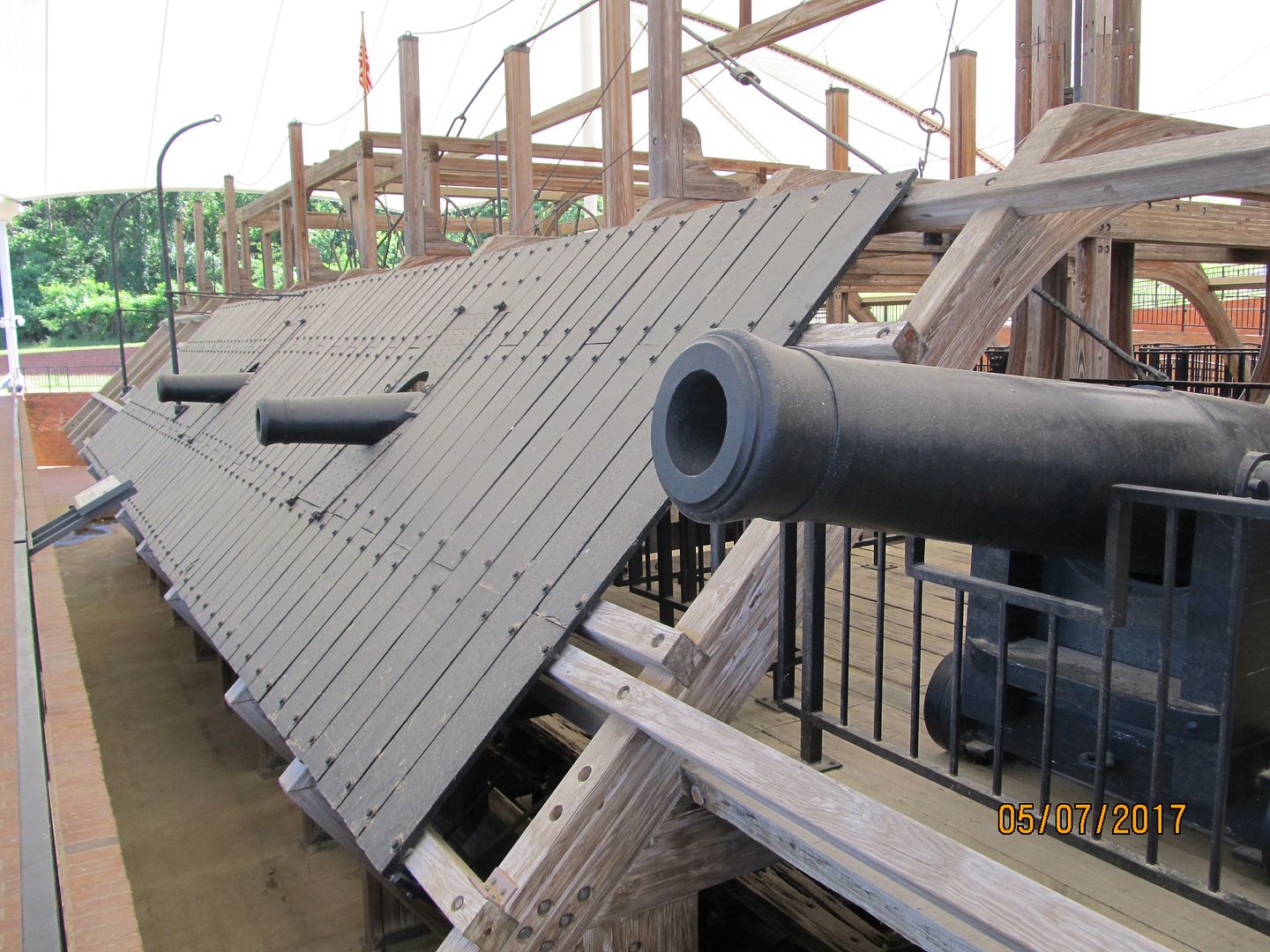 Boats make me happy:
Somehow I had not realized the Cairo was a Stern Wheeler.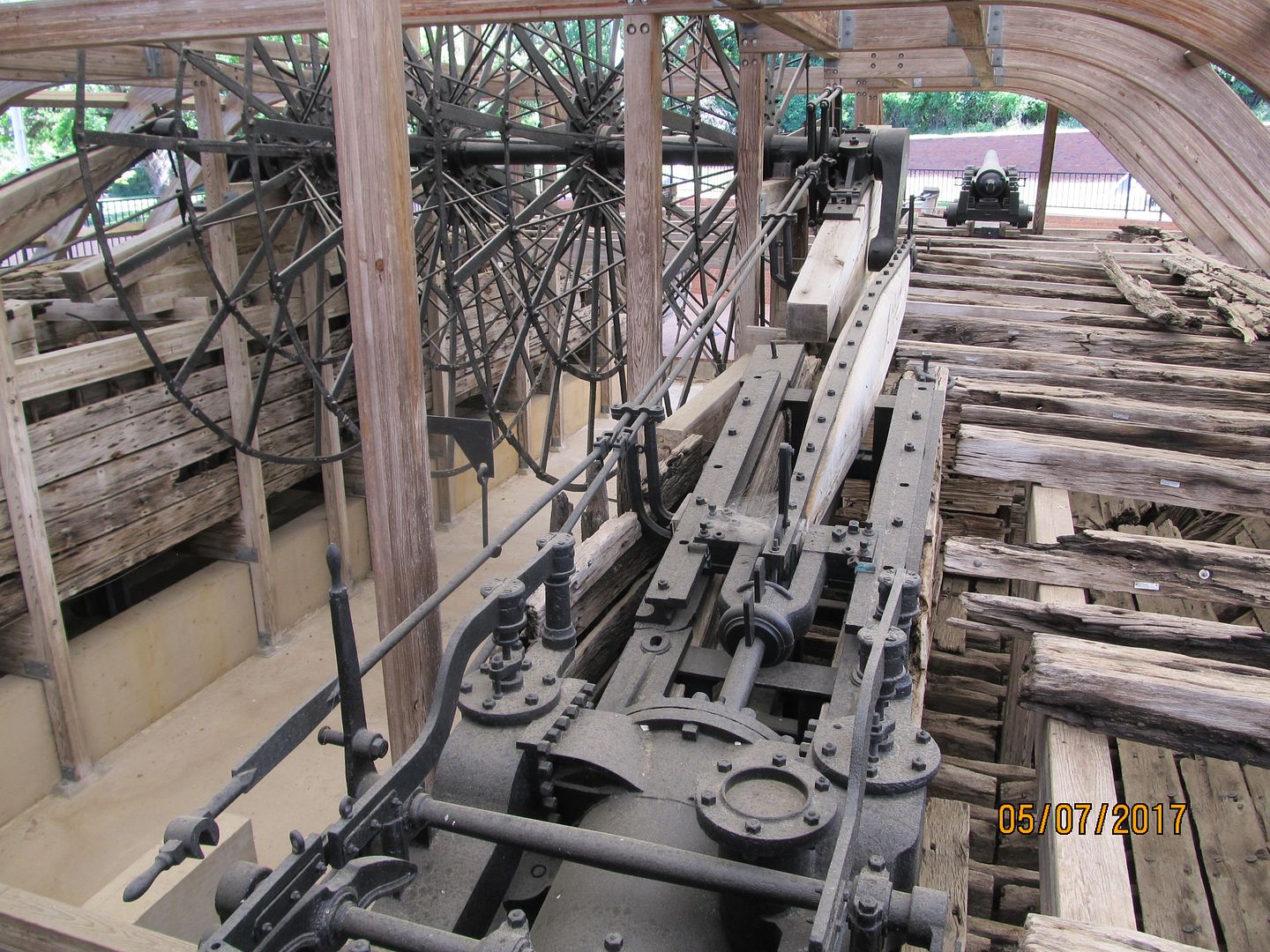 Things were a little different Back Then: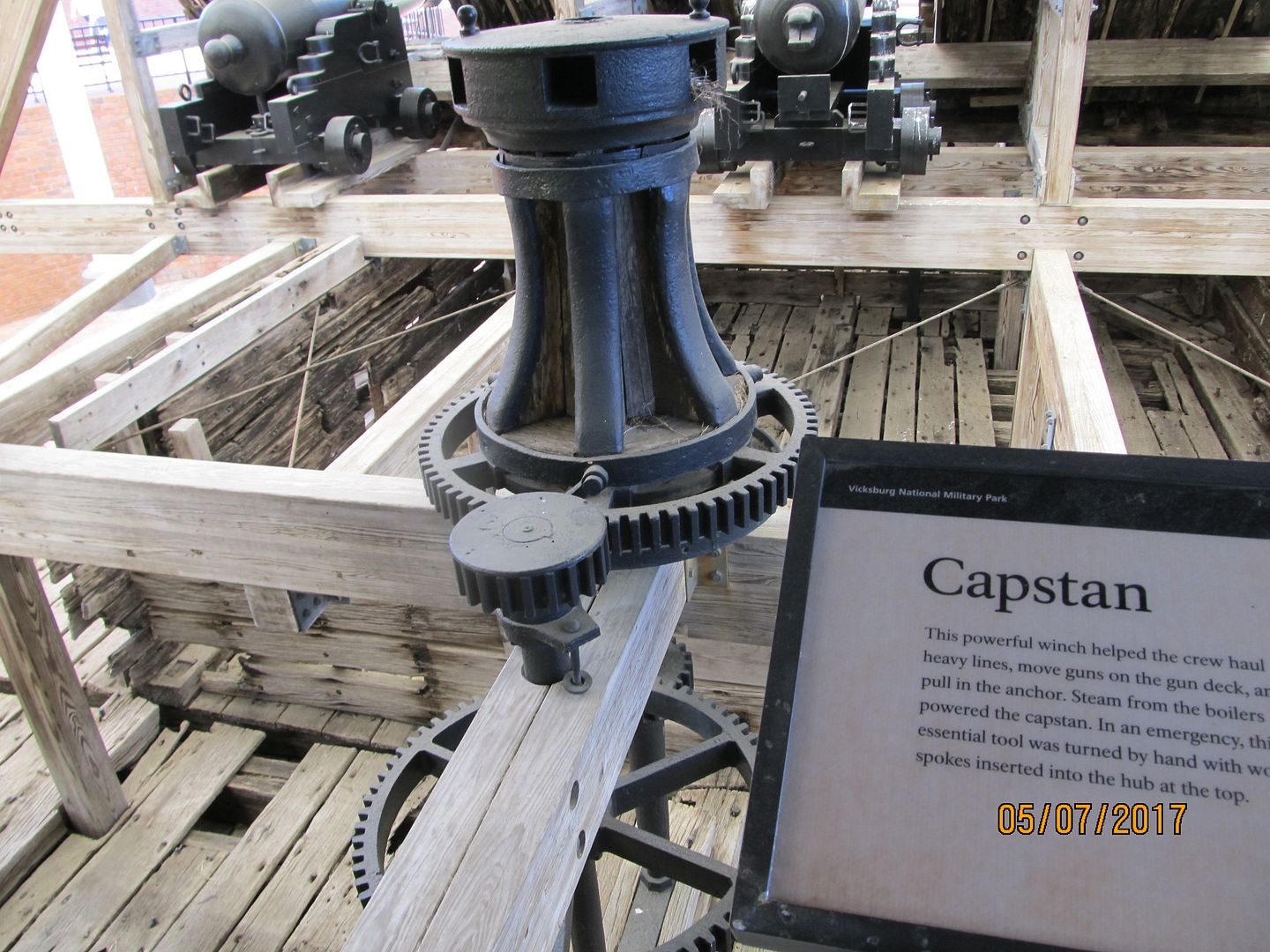 Pop and I discussed how cool and pleasant it must have been during the summer working in the boiler room of this boat. They hand shoveled a ton of coal an hour when the boat was moving. They were definitely not benefitting from air conditioning down in the bilge of this monster.
I noticed Pop studying the deck. We were certain this was not part of the original decking of the boat, there is no doubt about that. But Pop was very interested in the nails they used. I wish I had noticed this myself.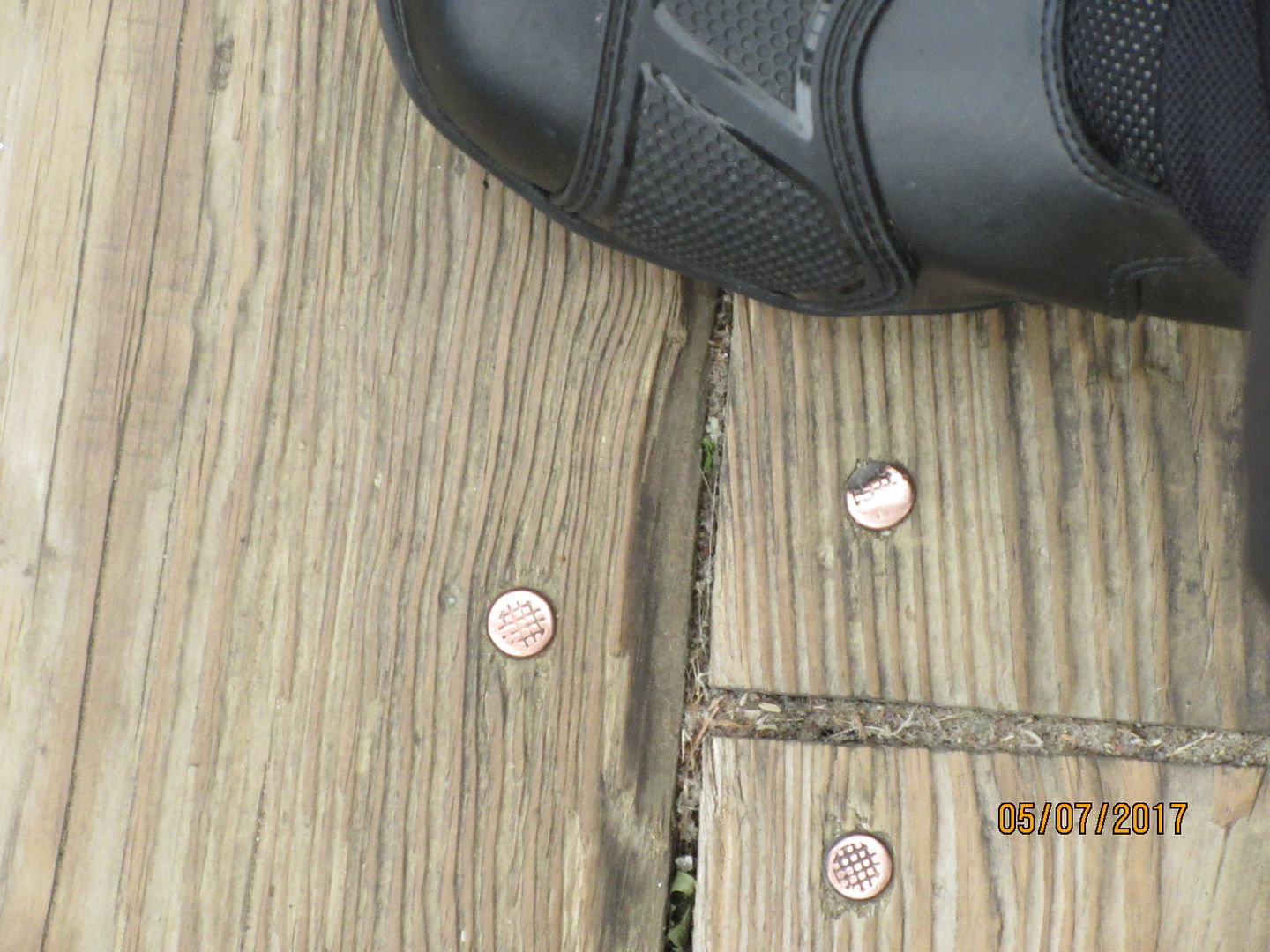 We passed through the Cemetery. That sucked.
The Cemetery overlooks the Yazoo River. I got confused because I knew that Vicksburg was a strategic battle due to it controlling the Mississippi River. The Yazoo is just a tributary of limited significance. None of the Vicksburg Battlefield is anywhere near the Mississippi River.
Then I realized, as huge as this park is, enormous as it seems and as many deaths are documented throughout this place, this was only a small part of the Real Battlefield. I estimate the Vicksburg Battlefield we can visit today comprises less than 20 percent of the total original battlefield. The battle originally wrapped all the way around the city from the Mississippi on the South to the Yazoo on the North. That realization sickened me.
I wanted to see the Louisiana Monument and then Get the **** Out.
Of course it was on top of a hill and of course the road leaned so we could not get off the bikes without them falling over and of course it was a one lane road and of course we were holding up traffic. But there was a parking lot at the bottom of the hill.
I told Pop that I really did not want to climb that damned hill. We talked about the men who died here, the men that had to climb these hills carrying the heavy weapons of that time. The men who tugged and pushed those damned cannons into position and shot each other to pieces for no good reason at all.
I bitched some more about not wanting to climb that hill. Pop handed me his camera. At my lost expression he said, "You got it to do. No sense in wasting your breath bitching about it. Run on up there and get your pictures. And take some for me on my camera too. I will be waiting for you here."
So I climbed the damned hill.
Halfway up: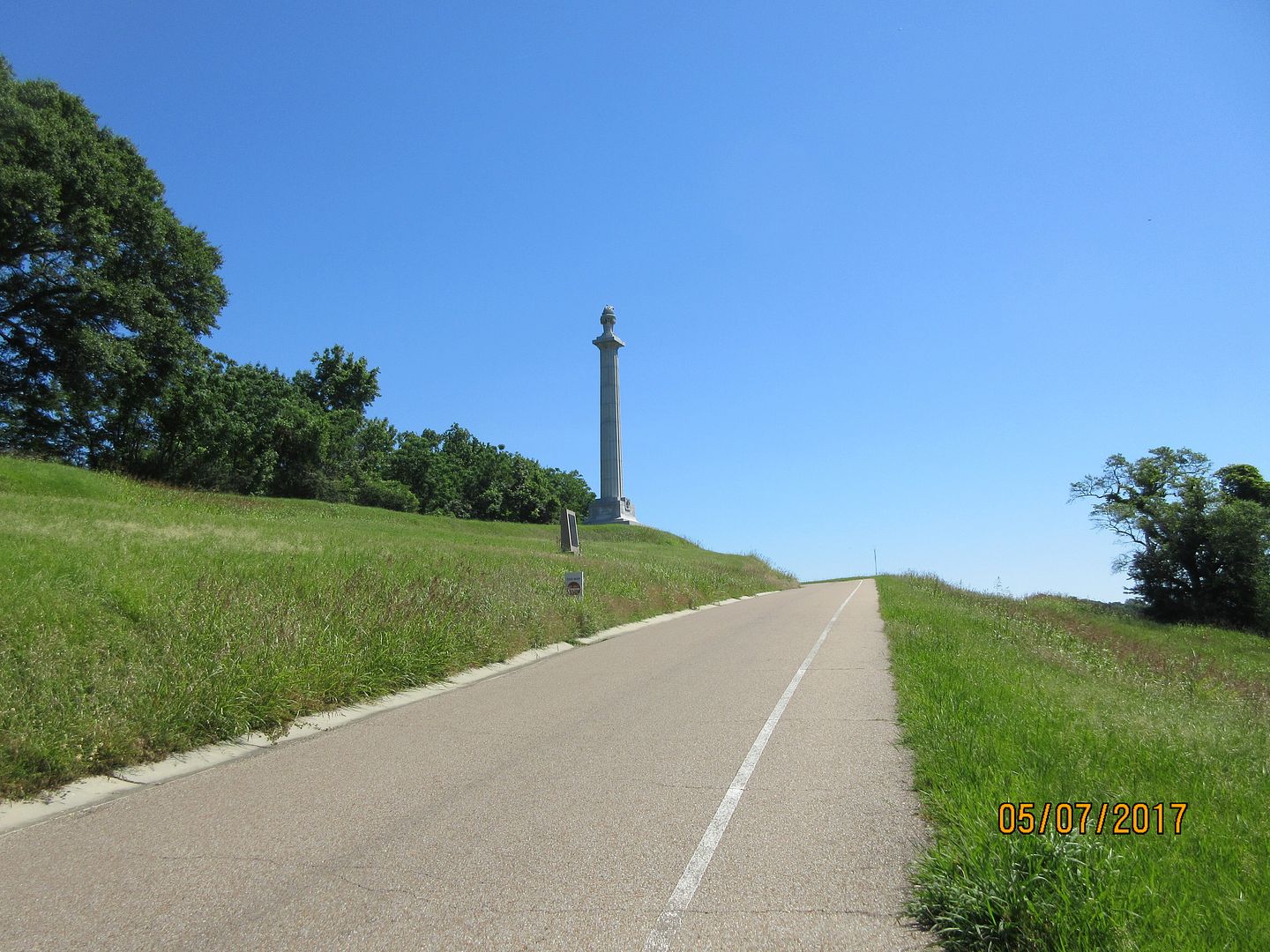 This was Far Enough:
We rode the last loop but I was Ready to Go.
The Iowa Monument: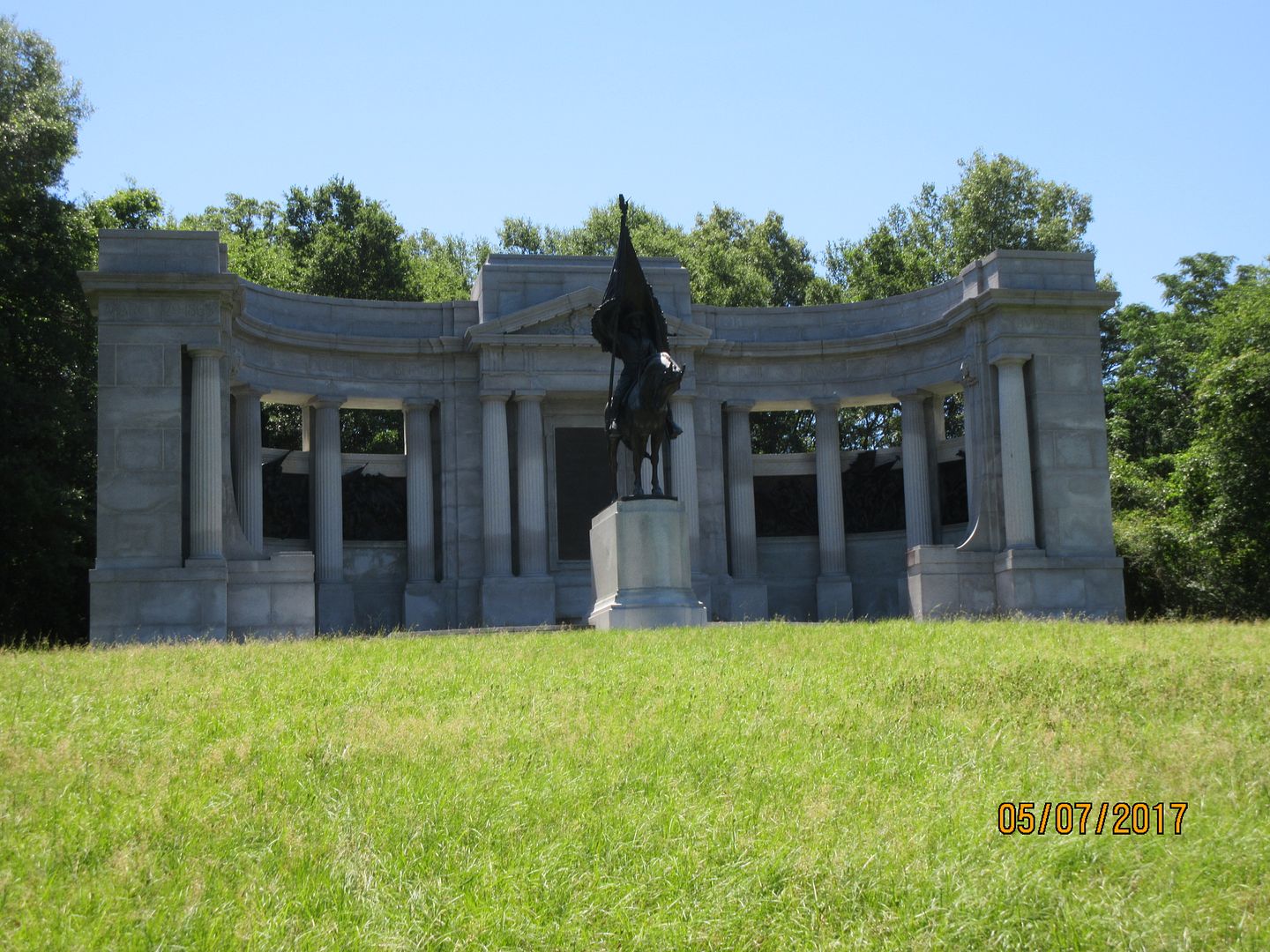 And how did Pop look after over 3 hours of this crap?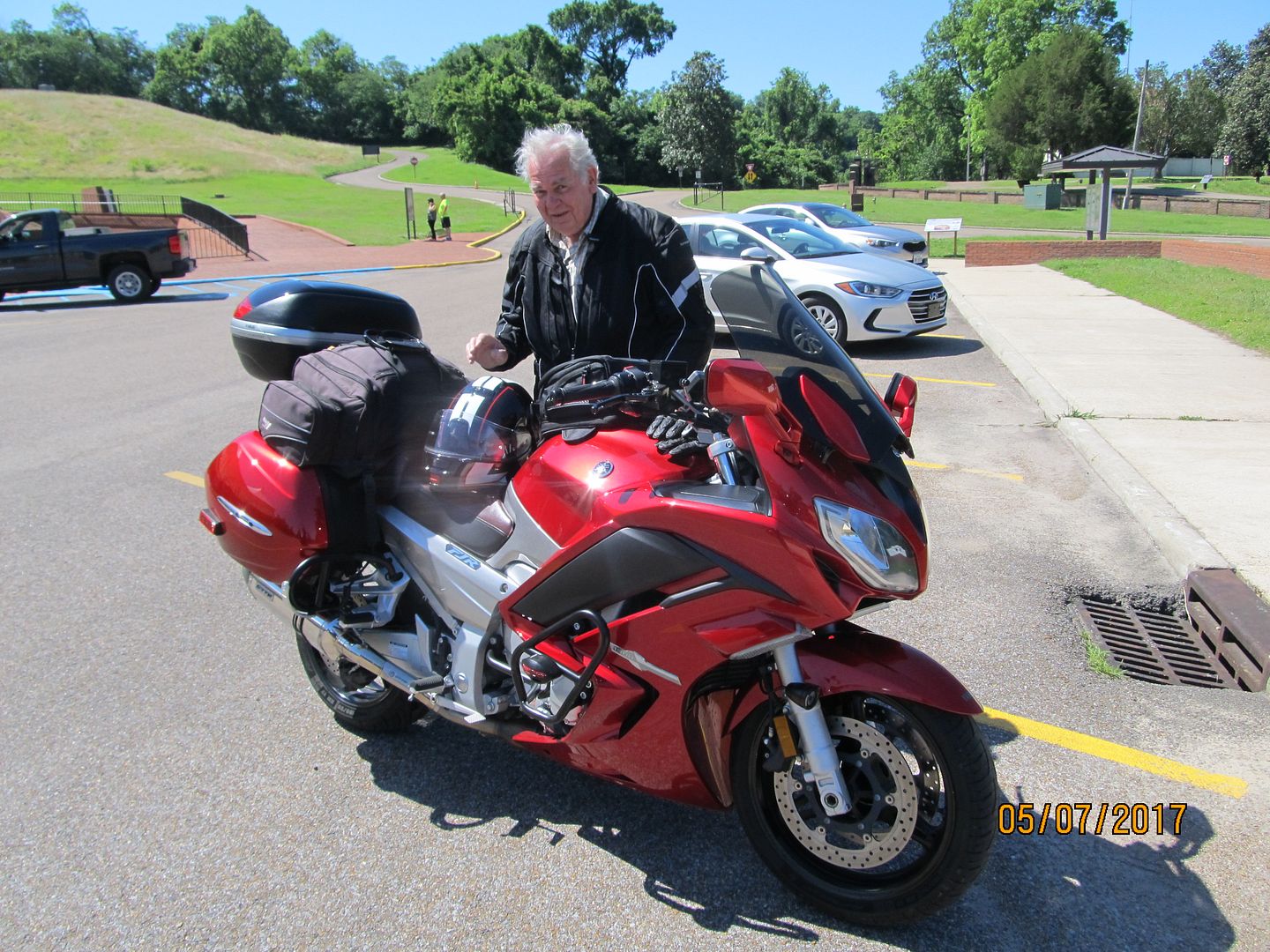 After that we headed home by a mostly direct route. We took part of the Natchez Trace, we took Hwy 33 and 24 thru Mississippi. We stopped for an excellent lunch buffet at Vine's in Centreville MS.
When we got to Pop's house he was fresh and strong. The new Cardo Freecom 4 had worked very well. The new bike had worked Very Well.
It looks like we will be making a little ride at the end of this month. But we will be a lot slower in the twisties than we were before February 12th.
---
Never run out of ideas, traction, and real estate at the same time.
Member
Trainee Sport Tourer
Join Date: Jul 2016
Location: Elizabeth, CO
Posts: 96
a great write up and I sure appreciate you taking the time for posting all the pictures and typing out the descriptions of what we were looking at. Glad to see and read that your dad handled the ride without issue.
Senior Member
Farkle Trainee
Join Date: Jan 2015
Location: Nashville, Tn
Posts: 113
Great write up and got to get there myself. May next year on the way back to COTA! Forgot all about the petrified forest down there.
So good to see Pop in the saddle and on the road again! The other guy not so much- he's way too cheery for me. People that are that happy all the time just aggravate the carp outta me, kinda like peppy little bouncy dogs. Just wanna squash the little ******* with my size 11.......
---
Russ
2007A

To view links or images in signatures your post count must be 10 or greater. You currently have 0 posts.

"According to this sign this petrified log weighs almost as much as Mrs. Redfish:"

One possible theory of why you look so "happy" all the time, you probably worry she'll see your comment, and you're the one that's actually petrified............
---
Ray
Keep yer stick on the ice....
2014 FJR1300A - Root Beer, 2008 WR450F, 1983 Magna V65 (for sale)
Quote:
"According to this sign this petrified log weighs almost as much as Mrs. Redfish:"

One possible theory of why you look so "happy" all the time, you probably worry she'll see your comment, and you're the one that's actually petrified............
44
I was thinking that if she saw that you would become that favorite cajun meal "blackened Redfish".
---
07 FJR 38,000 miles 03 Yamaha FJR1300
1986 Yamaha FZX700 1977 Kawasaki KX250 1978? Yamaha TY250 1979 Yamaha YZ250 1970 850 Moto Guzzi 1974? Honda XL 100 1978? Yamaha XT500 1975 Yamaha RD350B 1964 Bridgestone 90S
Member
Trainee Sport Tourer
Join Date: Dec 2016
Location: CDA, Idaho
Posts: 62
Nice to see your dad still riding. Nothing worse than a nail or somthing sticking out of your tire. Glade you noticed it. I have gotten into the habit of checking often.
---
2013 FJR1300 and other bikes